Philip Glass: Words Without Music – A Review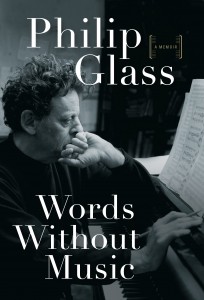 Philip Glass is probably the world's best-known living classical composer. His autobiography, Words Without Music, is a lively trip through New York's cultural scene through the late '50s to current times, with emphasis on the crucial decades of the '60s and '70s.
For Nova Scotians, however, the book is especially important, as Glass has been a resident of this province since the late 1960s. He devotes a chapter to the province – and western Cape Breton Island in particular – making Words Without Music an absolute must-read for any Bluenosers interested in music.
Glass is a frank and direct writer whose memories of growing up in Baltimore, attending university in Chicago, and then eventually studying in Paris with Nadia Boulanger, provide the book with a broader geographic and cultural palette. While working with Ravi Shankar on a soundtrack, for example, Glass encounters an aesthetic cosmopolitism that helps form his musical foundations.
When he returns to New York City from Paris his style, initially an abstract minimalism that repeated notes in a trance-like fury, gets codified in a series of loft concerts that influenced everyone from Brian Eno to Robert Fripp to David Bowie. Early works such as "Music With Changing Parts" and "Music In Twelve Parts" charted a hypnotic but inviting groove that helped to bring minimalism to music fans who might have found the atonal stresses of late modernism a bit too off-putting.
By the time his first opera, Einstein On the Beach, became an international sensation in 1976, our intrepid composer had been variously driving taxi cabs, doing plumbing jobs, and assisting sculptor Richard Serra shape large lead pieces. And while Glass still had to drive a taxi for another two years to pay off Einstein's touring bills, there's no question he had become a true force in the world of classical music.
When discussing his relationships with collaborators, whether they be in the theatre, dance or in the film world, Glass is almost always respectful and gracious. There's little gossip or small talk in the book, with the author almost always consumed with simply making a living and carrying on his domestic relations, including two children each from two marriages, with another longer-term relationship in between.
Considering PBS spent four hours documenting him for an American Masters special nearly a decade ago, where the filmmakers spent almost half the time filming in Nova Scotia, you might have thought there would be more consideration of his international impact and his place in the pantheon of classical composers in the book. There isn't, and Glass doesn't seem to be all that concerned about it. Instead, the narrative drives steadily forward, attempting to catch up with his own prolific nature, where his works – operas, symphonies, and chamber music – seem to pour out continuously in a rapid stream of inspiration.
For music fans, this is a motherlode of material. Glass's music – now considered 'post-minimal' – is remarkably accessible, and his associations with pop musicians such as Paul Simon and the Roche sisters have given him a front row seat in the pop culture panorama.
The chapter on Nova Scotia is particularly intriguing. Glass's descriptions of how some of the locals and their innate relationship with the natural world, along with the lingering Highlands Gaelic connections that eventually lead him to use fiddler Ashley MacIsaac in several productions, reveal an open-mindedness that confirms his questing spirit and ongoing sense of adventure.
As satisfying as Bob Dylan's wonderful memoir Chronicles, Philip Glass' Words Without Music charts the relentless ambitions and risk-taking of one of the world's most important musical and aesthetic figures. It's a great read, by any measure.

Ron Foley Macdonald is a filmmaker, musician, author, and arts journalist who lives in Halifax, NS. He has written for such publications as the Halifax Daily News, The Globe and Mail, The National Post, and Take One. He taught film history for 15 years at the Nova Scotia College of Art and Design, and has also taught at Dalhousie University and Mount Saint Vincent University. For two decades he was the Senior Programmer at the Atlantic Film Festival. He is currently the curator of the film and video series at the Dalhousie Art Gallery, and the producer of the recent feature films Exit Thread and Roundabout.

Latest posts by Ron Foley Macdonald (see all)