Fixing the Nova Scotia Film Industry
Several weeks ago I was contacted by an old friend who works the back-rooms of the Nova Scotia Liberal Party when he isn't working in one of the bright and shiny waterfront towers in downtown Halifax. He wanted to get my thoughts on what he called "the Chinese water torture" that has become the Nova Scotia film industry controversy. As I'm always happy to pontificate if someone else is buying the coffee, and because I hadn't seen my friend in a while, I readily agreed to sit down and chat. We set a time and date for a meeting a few days later at the Starbucks in the Marriott near Purdy's Wharf.
I am almost always early for meetings, and this time was no different. The Starbucks was empty, which was perfect – we wouldn't have to worry about being overheard (not a concern for me, but it would have made my friend more reticent to speak freely). I ordered my regular drink of choice – a skinny vanilla latte – and wandered over to the comfy seats by the main window to enjoy the view of Historic Properties (always good for some people watching) whilst I waited.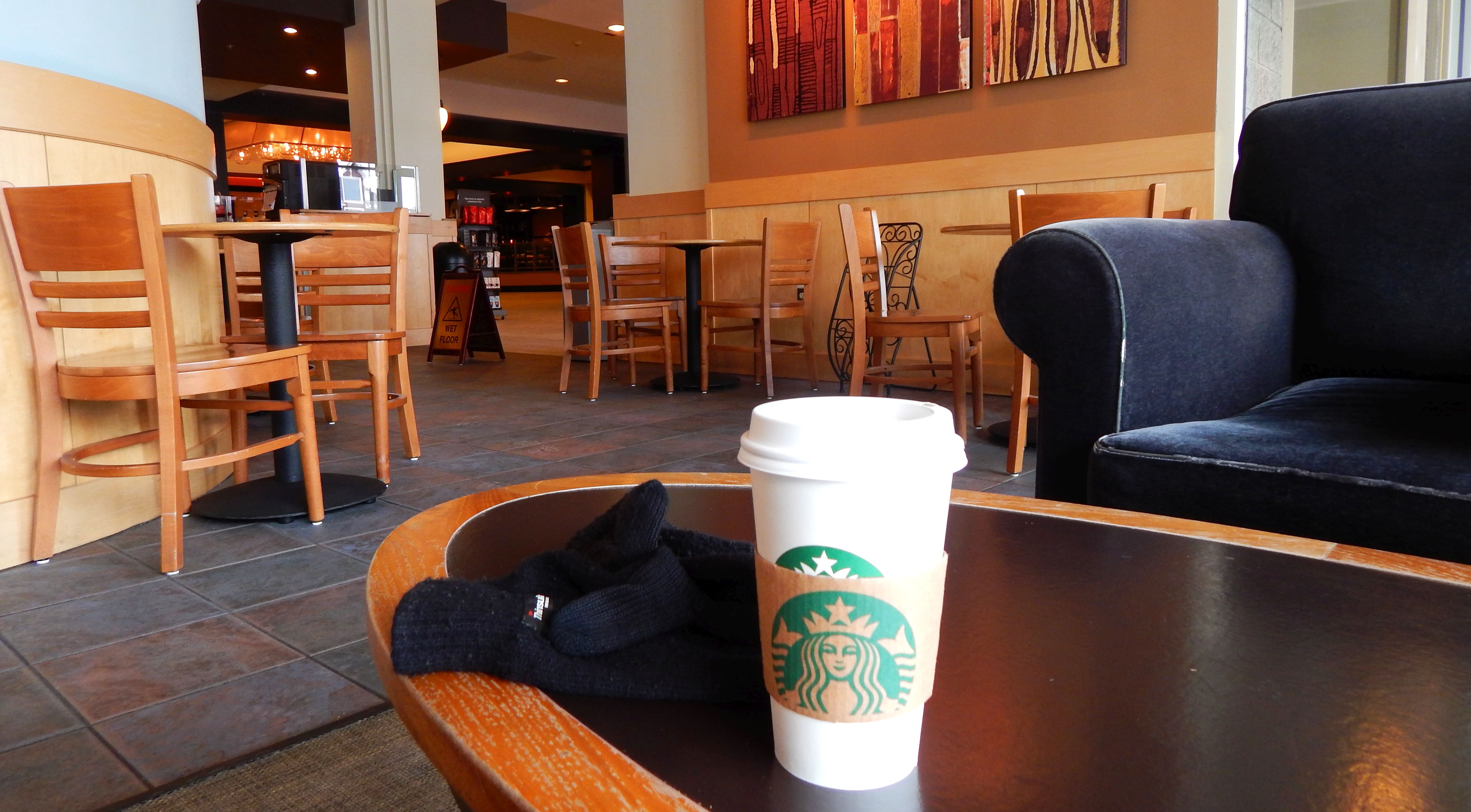 My friend arrived about ten minutes later. He waved to me as he approached the counter, ordered a drink (an Americano), and then came over and sat down across from me. We exchanged pleasantries for a few minutes – I asked him how his kids were, he asked me how my folks were (fine, and fine) – and then he got to brass tacks.
"I don't want to hear that we screwed up on the film thing," he said point blank. "I know we screwed up. What I want to know is what do you think we can do about it now. And don't tell me that we should admit we made a mistake and then put everything back the way it was, because that is never going to happen."
I looked at him for a moment. "You screwed up," I replied.
We both let that hang for a second, and then he smiled. "I hope that made you feel better."
"Yeah," I answered with a chuckle. "A little bit."
Tension broken, we began our conversation. I asked him if I could write about it, and he agreed provided that I didn't identify him. What follows is a summary of a fairly long and involved back and forth.
"You have to understand," he said with more than a bit of frustration. "The finances of the province are a mess. We're ten years out from turning into Greece if we don't get things under control. Hard choices had to be made. More are going to have to be made in the future. Everyone has to share the pain."
I nodded in agreement. "Film workers aren't stupid," I replied. "We know that things are tough. If the government had consulted with us beforehand in a meaningful and transparent way, we could have been partners in finding our way to a reasonable and responsible path forward. But we also know that you don't make things better by completely gutting one of the few industries in this province that had actually grown over the past twenty years to the point where it was stable, employed a skilled and creative workforce, enhanced the livability of the province, and attracted consistent investment from away, the majority of which went into productions owned and generated by Nova Scotians."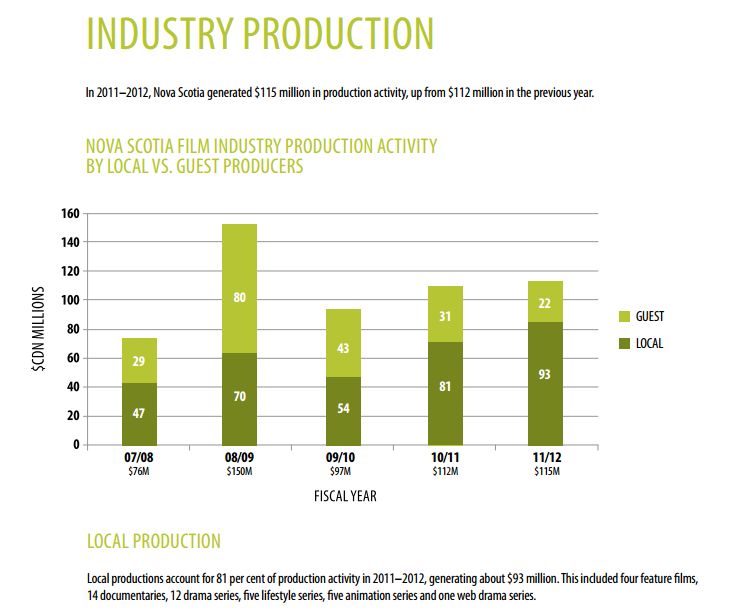 "We need cost certainty," he said, repeating the Liberal mantra from the past ten months.
"Tell me something," I asked. "Do you think the film industry brought more money into the province, in terms of direct taxes, indirect taxes, spin-offs and overall expenditures, than it took out? Because if you do, then the idea of cost certainty is absolutely ludicrous, because you're placing artificial restrictions on a net revenue generator."
"I don't know," he answered. "It's a money loser in terms of direct taxation, but with all the other stuff thrown in…" He paused and thought about it, then continued. "I see what you're saying."
"Look," I said, being as blunt as possible. "It's a net revenue generator for the province when all is said and done. Your own leaders repeatedly said so before the last election. The government's own statistics confirm it. But the Department of Finance just looks at direct taxation, because they have an agenda to push. They've been pushing that agenda for twenty years. It's the narrow-minded ideology of bean counters who can't see the forest for the trees. Your guys are the first government foolish enough to buy it, hook, line and sinker."
"Yeah, but sixty-five per cent was way out of line with other industries…"
"First off, that's a false number," I interjected. "The base rate was fifty per cent of eligible Nova Scotia labour, with incentives added of ten per cent if you filmed outside of Halifax, which was designed to offset the greater costs of shooting in rural areas and to encourage production in those regions, and then five per cent if you qualified for a frequent filming bonus, which was designed as an incentive to encourage repeat business. So yes, it could go as high as sixty-five per cent, but only under a certain set of circumstances. Most productions got less. To suggest otherwise has been disingenuous to say the least."
I took a sip of my latte and continued.
"Moreover, every film producer I know would have accepted a lower base rate and probably even a loss of the bonuses if we had been consulted beforehand. As a senior producer said in a meeting I attended after the budget came down last April, he could live with a haircut, but not with getting his head chopped off. We need to be competitive with other jurisdictions. You can't compare us with other industries – that's a straw-man argument. You have to compare us with our competitors within our own industry. And right now, we can't compete. Not even close."
He considered what I had said for a moment. "I already admitted we screwed up," he said. "What I want to know is how would you fix it?"
"You have two fundamental problems," I replied. "The cap and the gap."
He shrugged. "And those are…?"
"The new incentive fund has a $4 million per project cap, and a $10 million cap on the fund," I answered. "Or, as the government calls it, a budgetary allocation. But it's a de facto cap no matter what name you put on it, and it just isn't workable. It creates uncertainty, which is death in the film industry. Producers will ask the following question: will the money still be available in nine months when I'm planning on shooting, for example? Why would a production take all the risk of scouting locations here, and putting the wheels in motion, which takes time, when there might not be any money in the fund when they go to apply? The answer is that they won't – they'll go to a jurisdiction where there is no cap, and where they know that the money will be there no matter what else might be shooting. So if you want the new fund to succeed – and it could, because it's workable in theory based on how it's structured – then the cap has to go. As I said, if you believe the film industry is good for Nova Scotia and a net revenue generator then it's an artificial barrier to investment and job creation. And if you don't believe that, then have the guts to say so. You would be demonstrably wrong, but at least that would be ideologically consistent. But you can't have it both ways."
"So what's the gap?"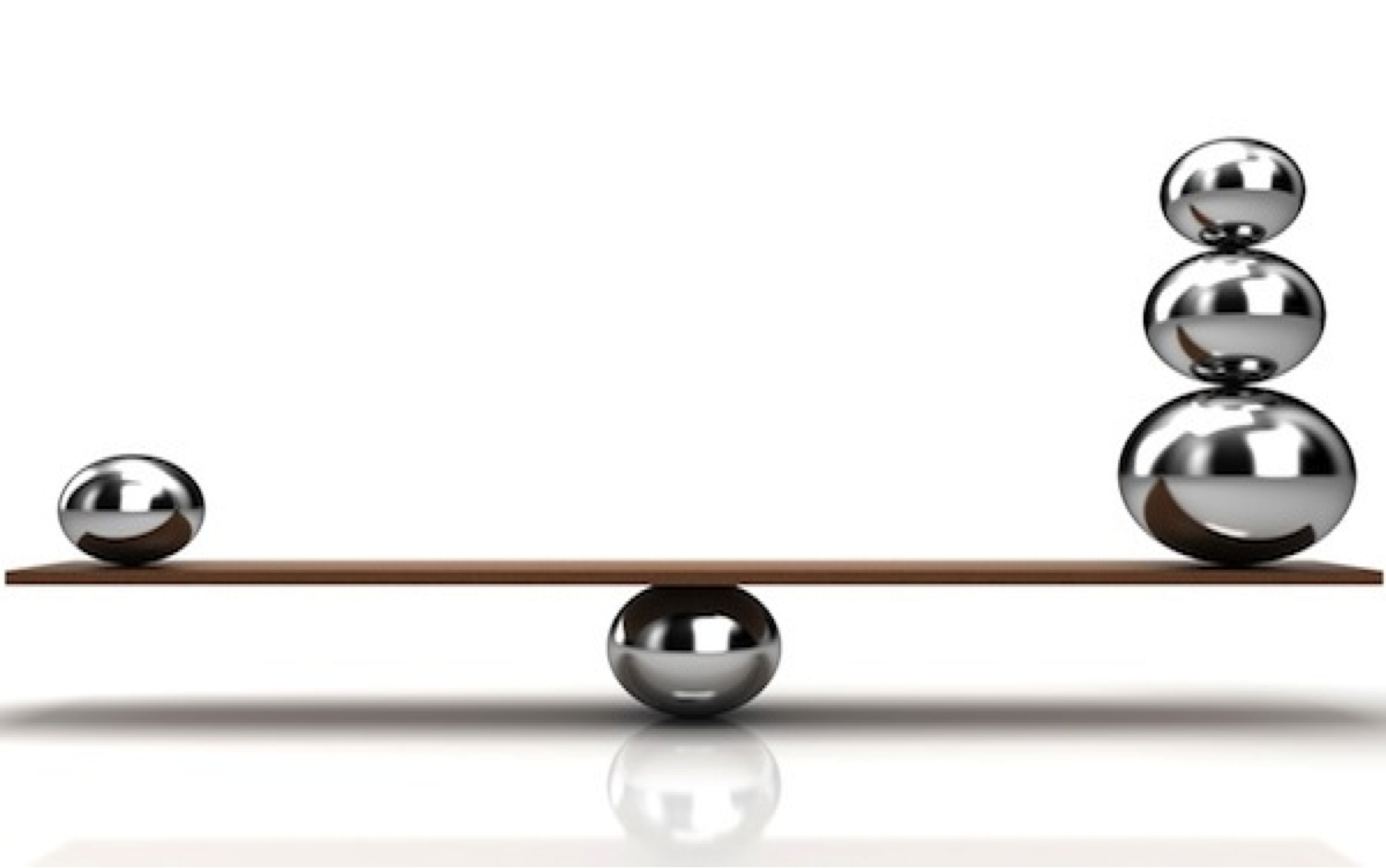 "The gap," I continued, "comes from the loss of the equity funding that Film and Creative Industries Nova Scotia used to provide, without which local producers now have a gap in their financing structures that is nearly impossible to fill because they have usually sourced out all the other available funds."

"And how much would that cost?"

"Somewhere between $1.5 million and $2 million at the most would do the trick, and would leverage in a lot more money than is going out," I answered. "It could be administered out of NSBI along with the incentive fund at no extra administrative cost." I paused for another sip of my latte, and then continued. "And to spread it around so that you get more bang for your buck, I would limit the amount of any investment to under $200,000, and probably under $150,000. In the grand scheme of things, it's a penny ante amount of money when you consider what it triggers in return."

He thought about all that for a second. "Anything else?

"Yup," I replied as I drained the last bit of my latte. "Make the one cut that all film workers will support – dump McNeil and bring in someone else before the next election."
He laughed, and stood up. "Not going to happen."
I put my empty cup down on the table, stood up, pulled my jacket on, and grinned as I shook my friend's hand.
"Not by you guys," I said. "But I think you're going to find that Nova Scotians will write a different ending for this story when the next election is held."
And with that we parted, my friend back to his office on the waterfront, and me back to the harsh reality of knowing that despite there being an easy and obvious fix to the film industry crisis that would put us all back to work and allow us to experience the same boom that is currently happening almost everywhere else in Canada, the current Liberal government has shown neither the wisdom nor the political courage to make it.

To do so would be to admit that they "screwed up," and as my friend made clear, and as I fear will be the case, that is the one thing they will never do.
I hope he and I are wrong, but we both know all too well that in politics, pride almost always comes before the fall.

Paul Kimball is a filmmaker and author who lives in Halifax, NS. His work includes the book The Other Side of Truth, the feature films Exit Thread, Roundabout, and The Cuckoo in the Clock, as well as documentaries for CBC, Bravo, Vision, Space, TVNZ, Knowledge, Eastlink TV, UFO TV, and SCN. He has an honours degree in history from Acadia University, and a law degree from Dalhousie University. He is a former Program Administrator of the Nova Scotia Film Development Corporation, and served as President of the Nova Scotia Film and Television Producers Association and as a member of the Nova Scotia government's Film Advisory Committee. He has an abiding love for vanilla milkshakes, mysteries and Walden moments.

Latest posts by Paul Andrew Kimball (see all)