Mary Tyler Moore in Nova Scotia
The recent passing of actress and cultural pioneer Mary Tyler Moore received the usual global media interest, with emphasis on her eponymous 1970-1977 television series that had her portraying a single, career-oriented professional when, up to that point, women had been relegated to the role of married foils to working husbands.
The continued steep decline in local media was revealed again when no reports on her death mentioned that Moore filmed a movie for TV here in Halifax in the summer of 2003. Blessings was adapted from journalist and author Anna Quindlen's 2002 novel, and told the story of an eccentric 82-year old woman played by a heavily made-up Moore, whose life is revitalized by the arrival of a baby, dropped off anonymously on her doorstep.
Local actors Cory Bowles and Laura Regan provided supporting roles, and the project was broadcast on CBS in October, 2003, right after the catastrophic landfall of Hurricane Juan in Halifax. That might be responsible for the mass amnesia in Nova Scotia concerning the project. There were, in fact, two movies filming in the South End of Halifax throughout the Juan disaster, and they distinguished themselves by providing electricity through their generators for some of their neighbours after the power went out.
Whether Blessings was one of those films remains a question that perhaps the greater public can answer. Still, to have such an important media figure in our midst doesn't seem to faze Bluenosers much (we've played host to the likes of Charlton Heston and Kirk Douglas over the years ), but it is a reminder of the reach of Nova Scotia's motion picture production scene.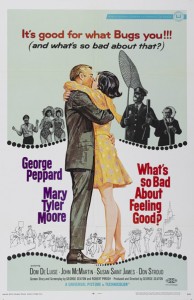 I was particularly surprised by how brusque and compact Mary Tyler Moore's achievements became when reported in today's media landscape. There was little mention of a spate of 1960s films, such as George Roy Hill's 1967 hit Thoroughly Modern Millie, or my personal favourite, 1968's wonderful What's So Bad About Feeling Good, directed by George Seaton, which made Moore a kind of madcap comedy icon.
No mention was given to the 1978 TV movie First You Cry, where Moore's character battled breast cancer in one of the first broadly discussed examination of what is now a familiar subject. Anthony Perkins played the husband, and the film brought light to a something that had to that point not really been discussed openly.
At one time, Moore was the most important female producer in Hollywood. Besides the three popular spin-offs from the Mary Tyler Moore Show (Lou Grant, Rhoda, and Phyllis), her MTM productions also produced such hits as WKRP in Cincinnati and the groundbreaking Hill Street Blues.
In the late 1970s and early 1980s Moore bravely attempted to revive the television variety show format with a series of hour-long programs that unfortunately didn't catch on with the public. Her extraordinary work ethic and fearless spirit simply couldn't resurrect a format that that had fallen so far out of fashion.
Still, Moore remains fixed in our imagination for portraying the first female character in a mass medium who dared to remain unmarried into her '30s, cultivating a professionalism that would become common in Western societies through the 1980s and 1990s right up to the modern era.
That she graced us with her presence in 2003 is a healthy reminder that Nova Scotia is not so far away from the center of things after all.

Ron Foley Macdonald is a filmmaker, musician, author, and arts journalist who lives in Halifax, NS. He has written for such publications as the Halifax Daily News, The Globe and Mail, The National Post, and Take One. He taught film history for 15 years at the Nova Scotia College of Art and Design, and has also taught at Dalhousie University and Mount Saint Vincent University. For two decades he was the Senior Programmer at the Atlantic Film Festival. He is currently the curator of the film and video series at the Dalhousie Art Gallery, and the producer of the recent feature films Exit Thread and Roundabout.

Latest posts by Ron Foley Macdonald (see all)