"Vinyl" (HBO) – Pilot episode review
The new Golden Age of Television carries on with an delicious Valentine's Day poisoned heart present from veteran filmmaker Martin Scorsese in the first episode of the new series Vinyl, which premiered Sunday evening on HBO Canada.
Set in 1973 at the apex of the then booming record industry in New York City, the premiere uses the real event of the collapse of the Mercer Arts Center as its dramatic fulcrum. A mixture of real-life characters (Donny Osmond, England Dan and John Ford Cooley) and trends (Punk, rap, disco) blends with compelling fictional characters in a rich weave of historic and created storylines.
If you are a Scorsese fan, you will recognize the world of 1973 as the place where the great director's landmark films Mean Streets and Taxi Driver are located.  The rich, dark color palette, full of browns, greys, and blacks, highlights an decaying urban setting as New York City is close to hitting bottom. It makes for a portrayal of a city that is very far indeed from its gleaming image that we know today.
The characters who populate this urban inferno are shockingly cynical and debased. The record industry in the mid-1970s revealed humanity at its most decadent, with fraudulent business practices melding with ruthless exploitation, all peppered with relentless drug use, manic sexual practices and out-of-control personal behaviors.
Indeed, there is one scene where Scorsese literally shows a gigantic orgy that could have been lifted out of Fellini's Satyricon. What follows is a drug-addled confrontation between a radio promotions man and the record company owner over Donny Osmond's refusal to play ball; it is a hair-raising portrait of personal relations and business agreements gone to hell.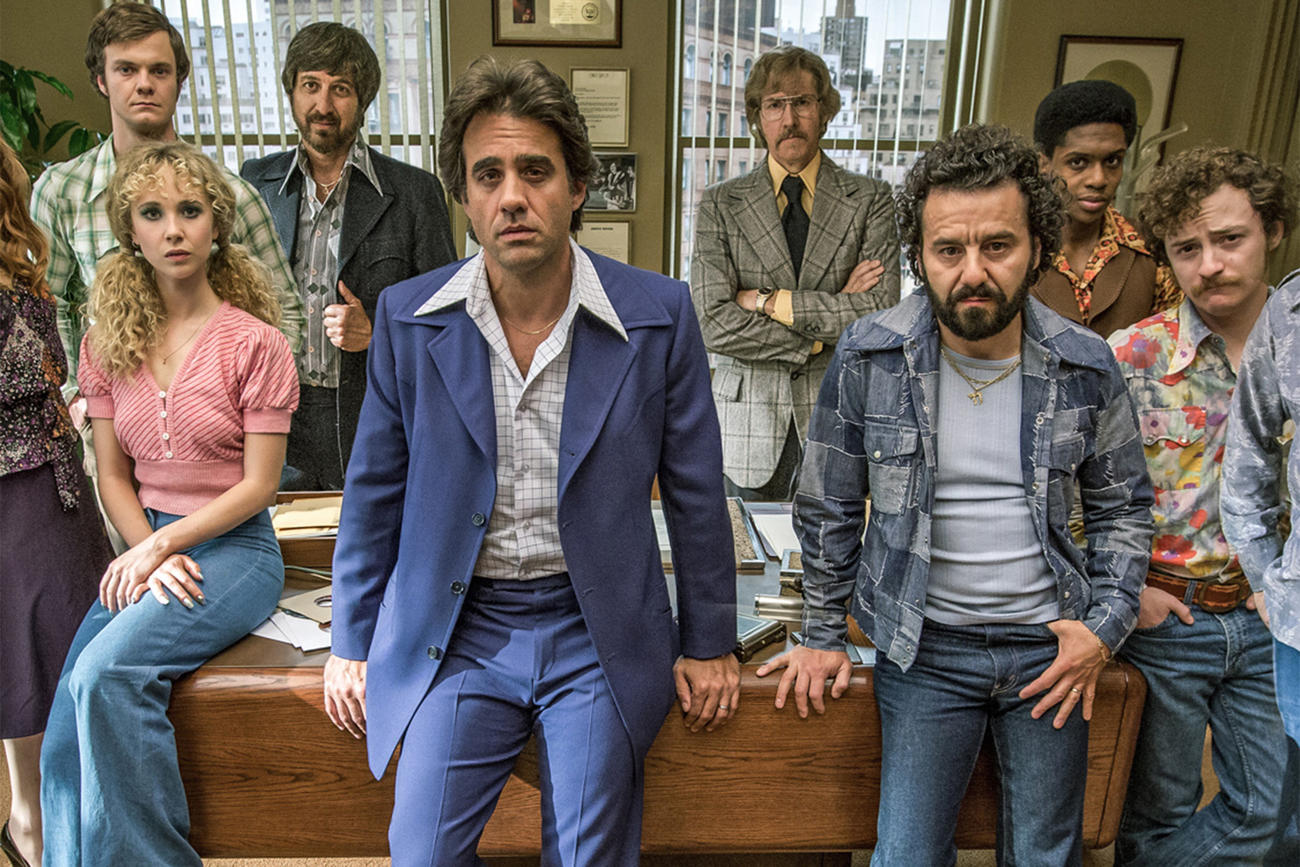 The main character, played to perfection by Bobby Cannavale, is running a record company that is wobbling between false prosperity and complete ruin. Cannavale's character himself is surprisingly ambivalent, carrying a past where he sold out his ideals while escaping a junior partnership with a Morris Levy-like record company head whose deep and dangerous mob connections provide an abyss that threatens to swallow everything of value.
The resonance of these stories – based in hard-luck narratives from the likes of Tommy James, who states in his autobiography that Morris Levy owed him 40 million dollars in unpaid royalties – powers what promises to be the long, twisted and engrossing plot lines of Vinyl. The first episode sports a shocking, drown-out murder, along with domestic discord and the kind of drug-fueled excess that will undoubtedly bring on an avalanche of dramatic possibilities.
Because Scorsese never strays from the fact that music is the very center of Vinyl, the series' premiere is constantly full of great, unexpected moments where the music comments and deepens the drama. At an extensive outdoor birthday party scene, for example, the live band plays War's 'Slipping Into Darkness'. In the hands of a lesser filmmaker, this would seem overly obvious and heavy-handed, but under Scorsese's cool direction, it deftly prefigures the looming plot developments that bring the first two-hour episode to its shocking climax.
Another example of the filmmaker's superb cinematic control comes when a record company official gets in a one-way telephone screaming match over Donny Osmond's absence. Scorsese does a 360 degree spin around office while staff gather outside the door. It's a twisted one-man ballet where the increasing violence of the performance is perfectly mirrored by the camera movement.
Visually dazzling, Scorsese's cinematic ambitions are matched by the long-range reach of his narrative scope. Many of these issues and storylines demand greater time and energy to explore and resolve. The extremes of behaviour would probably be too much for even a feature film; the Dickensian differences in social value means Vinyl needs a epic frame in which to play itself out
If you had any doubt that our most talented filmmakers are now working out their themes most fulsomely these days on the small screen, Vinyl offers plentiful proof that premium television's time is now.
Miss it at your peril.
Vinyl airs Sunday evenings at 10 pm AST in Nova Scotia on HBO Canada.

Ron Foley Macdonald is a filmmaker, musician, author, and arts journalist who lives in Halifax, NS. He has written for such publications as the Halifax Daily News, The Globe and Mail, The National Post, and Take One. He taught film history for 15 years at the Nova Scotia College of Art and Design, and has also taught at Dalhousie University and Mount Saint Vincent University. For two decades he was the Senior Programmer at the Atlantic Film Festival. He is currently the curator of the film and video series at the Dalhousie Art Gallery, and the producer of the recent feature films Exit Thread and Roundabout.

Latest posts by Ron Foley Macdonald (see all)