Howard Epstein's "Rise Again: Nova Scotia's NDP on the Rocks" – A Review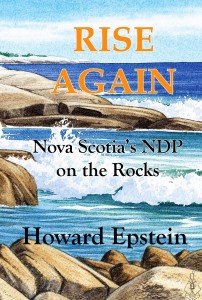 Howard Epstein's Rise Again: Nova Scotia's NDP on the Rocks is part idiosyncratic political memoir and part bitter philippic from someone who was both in the Nova Scotia government from 2009 until 2013, in the sense that he was an MLA of the governing party, but also never really part of the government during the Dexter years due to his exclusion from cabinet – something that clearly still rankles Mr. Epstein, despite his frequent assertions to the contrary.
He makes a point of noting very early on, for example, that "of the small group of six NDP MLAs first elected together in 1998 and then re-elected in each subsequent election, I was the only one not given a portfolio." (p. 8) Yet while he admits that he was "unhappy" and "profoundly disappointed" by the NDP government, he maintains that this has "nothing to do with my own fate, and everything to do with the policy decisions made." (pp. 9 – 10)
Given that one of the most recognizable traits of your average politician is their talent for self-justification, it is probably true on some existential level that Mr. Epstein actually believes that his motives in writing this book are purely noble. And there is plenty in the book that historians will find useful in terms of understanding the various strands of political opinion in Nova Scotia at the beginning of the 21st century. For an objective reader, however, it is impossible to accept Mr. Epstein's claim that his blistering critique of the NDP government in which he served is not based to a great degree on his own personal anger at being excluded from the inner circle of cabinet, largely because he does it so often (file this under: protest too much, methinks he doth).
Mr. Epstein comes across as someone who cannot help but conflate what is good for the party (and by implication the Province) with what is good for him, and vice versa. There is a "my way or the highway" hubris at work here, masquerading as ideological purity, that is fascinating as a psychological study if nothing else… and it sabotages the entire book just as it did Mr. Epstein's political career.
In terms of his recollections from his time in government, Mr. Epstein goes to great lengths throughout the book to paint most of his colleagues as sell-outs to the "true" progressive cause, people who were all too eager to make deals with the same old corporate and bureaucratic devils rather than push truly transformative change for Nova Scotia.
Darrell Dexter comes in for the harshest criticism. Mr. Epstein dismisses the man who led the NDP to their first government east of Ontario as someone who would have been "best placed as a cabinet minister and not as premier." (p. 64) When he writes that Mr. Dexter "should have rowed rather than steered," one cannot help but get the impression that Mr. Epstein thinks it all would have gone better if only he himself had been in charge. (p. 64)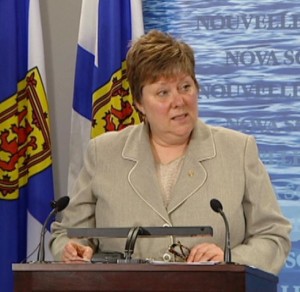 The two other primary targets of Mr. Epstein's scorn are Maureen MacDonald and Graham Steele. As the NDP's first Finance Minister, Mr. Steele charted the course of fiscal responsibility that Epstein considers the poison that infected the government and led it away from "core" NDP principles. There is very much a feeling left by Mr. Epstein throughout the book that Mr. Steele was a technocrat without a true passion for social democracy. "He was never," one can imagine Mr. Epstein thinking, "really one of us."
As for Ms. MacDonald, a dedicated and long-time NDP MLA whose progressive credentials are impeccable by any standard, Mr. Epstein admits that she served ably as minister for the difficult portfolios of Health and Finance, and he says he admires her, but then he sticks the knife right between her shoulder blades.
"One of the most disappointing features of the Dexter government," he writes, "was the extent to which Maureen MacDonald bought into his agenda… Somewhere along the line she stopped being a critical presence and decided that loyalty to the leader and the inner circle was more important than what actually got accomplished." (p. 131)
With friends like Howard Epstein, Ms. MacDonald, Mr. Steele, and Mr. Dexter could be forgiven for wondering who needs enemies.
Making matters worse for the reader, Mr. Epstein lumbers along on his jeremiad with the literary aplomb of a lawyer drafting a particularly dull brief. There are some interesting insights into what happened during the NDP government sprinkled throughout, but they are oases in the desert that is Mr. Epstein's turgid and not terribly focused prose. This is a book that definitely could have used a more vigorous editor (on the plus side, it is worth pointing out that the book has a useful and fairly extensive index, and the references in the endnotes are good as well).
But even a dull brief can be effective if it contains a compelling case. Unfortunately for Mr. Epstein, it is here, where it really matters, that he fails completely, his analysis of events undermined at every turn by his inability to look beyond his own narrow political parochialism.
His basic thesis runs like this: The NDP were elected in 2009 as change agents by a population that wanted them to enact a left-wing agenda immediately, and they were defeated in 2013 largely because they governed in a manner and with policies no different than their Liberal and Progressive Conservative predecessors.
"Fundamental to understanding why we lost in 2013," writes Mr. Epstein early on, "is a correct understanding of why we won in 2009. The party leadership was and remains convinced that the win came through centrism. But that is not so. A strong part of the win came from having held out the promise of being different. The failure to act as a Government in the ways suggested when we were in Opposition proved fatal." (p. 21)
What actually happened was quite different. By 2009, the Progressive Conservatives had been in power for a decade, and Rodney MacDonald had proved to be a somewhat underwhelming choice as Premier. The Liberal Party was still very much in third place, with an untested leader in Stephen McNeil who was more concerned with rebuilding the party, particularly its finances, than trying to win the election. Having almost won the 2006 election under Mr. Dexter, the NDP was the default choice for people looking to turf the Tories… and there were enough of those people, when combined with the NDP's base, to vault the NDP into power.
In short, Nova Scotians were ready to give the NDP a chance on the grounds that they were better than the alternatives at hand, but it was hardly a resounding endorsement for the direction Mr. Epstein advocates. Without the commitment by the party to a moderate platform, where change would be managed in an incremental nature, at least at first, the NDP would never have won their 2009 majority.
Mr. Dexter understood that reality, as did Mr. Steele, Ms. MacDonald, and the other NDP MLAs who formed the Cabinet (and it's worth remembering what a substantial and talented cabinet that was, particularly when contrasted with the hapless group of Liberal ministers who succeeded them). Mr. Epstein did not, which is what really explains why he was never included in the "inner circle." His read of the Province is very much rooted in his own Manichean view of the world, but his colleagues understood the actual reality of electoral politics in Nova Scotia far better.
Nova Scotians have proven time and time again that they are moderates to the core. Change comes slowly, and if one wants to govern effectively, and bring about real change over time to not only individual policies but to the entire political culture, one has to understand these realities and manage expectations.
As the old saying goes, Rome wasn't built in a day. 
Besides, it's not as if the NDP government wasn't progressive. Mr. Epstein spends a great deal of time concentrating on the small number of what he sees as the significant failures by the government, which are invariably those areas where the NDP government deviated from Mr. Epstein's views. But in doing so, he glosses over or completely ignores many of the very real progressive successes of the government. 
Arts and culture policy is the perfect example. Mr. Epstein shows little interest in it, relegating it to a single page in his book (p. 270), and then only referencing the re-establishment of the Nova Scotia Arts Council. Mr. Epstein completely ignores the accomplishments of the NDP government with respect to the broader creative economy. The establishment of Film and Creative Industries Nova Scotia and the Creative Nova Scotia Leadership Council were transformative measures, designed to both centralize program delivery in the creative economy and to give a greater voice in policy making to artists themselves.  It was progressive governance at its best, creating partnerships between government and the private sector, and within the private sector itself promoting synergies between different elements of the creative economy, a change that was long overdue. 
I know just how difficult this was to achieve because I was the first civil servant to really look into the idea of a central agency for creative economy administration whilst I was the Program Administrator at the Nova Scotia Film Development Corporation in 1998 and 1999. I met great resistance from both the film and music sectors to the very idea of combining the administration of their programs into one agency, and we dropped the matter. It is to the NDP government's great credit that they finally brought about these logical changes despite concerns by industry stakeholders who evinced an unwillingness to alter the status quo. This was done to the benefit of all concerned. The implementation of the Status of the Artist Act was another notable move forward in this important area of policy-making. 
These were not the actions of a government that was no different than the Liberals who succeeded them, who have since gotten rid of FCINS and implemented cuts that have devastated the film and television industry; these were the actions of a government committed to change. While the creative economy was one of the most notable progressive-oriented successes of the NDP government, there were many others, contrary to what Mr. Epstein would have you believe.
So if the NDP was a progressive government that delivered change at a rate that was in tune with the overall approach Nova Scotians expected, why were they defeated in 2013 after only one term? It is here that I think Mr. Epstein gets at least part of the equation right. He points to a government that centralized too much power in the Premier's office, that was poor at communicating its vision to Nova Scotians, and that was even poorer at acknowledging those mistakes that it did make. That is a surefire recipe for electoral defeat. But that is a question of practice, and not an issue of fundamental principles.
On the subject of principles, Mr. Epstein is also more than a little hypocritical in his condemnation of his peers. After all, he could have resigned from the NDP caucus and sat as an independent at any time if he thought they were on the wrong track and that his views were being ignored. That kind of action can be a powerful statement… but he did not take that course, and thus failed to take a principled stand that could have made a difference. One cannot help but conclude that he was still holding out hope of an appointment to Cabinet.
He also demonstrates throughout the book that he was just as much a realpolitik type of politician as everyone else. This is particularly the case when he describes the 2000 NDP leadership convention. When his candidate was knocked out after the first ballot, he backed Helen MacDonald over Kevin Deveaux, not on policy grounds, which would have been understandable, but because "it would likely be easier to depose Helen than Kevin" after an almost certain defeat in the next general election. (p. 57) This is positively Nixonian in the nature of its base political calculation. 
In Rise Again, Mr. Epstein presents a picture of an NDP government that sold out its principles in order to gain power. "The NDP has been corrupted," he concludes, "through an internal takeover by those who see themselves as professional career politicians and their staff whose main consideration is their own jobs." (p. 12) In doing so, he has done a fundamental disservice to the truth. He also does a grave disservice to the men and women in a first-time government who faced a political culture in Nova Scotia that had calcified over decades, particularly in the upper echelons of the civil service, and still managed to effect positive change for Nova Scotians.
Mr. Epstein clearly disagrees. "I find it hard to see any member of the Dexter cabinet as a credible candidate for the next party leader," he proclaims towards the end of the book (p. 316), dismissing both the leadership of the only NDP government in Nova Scotia's history and all of the people within the party (and many outside it) who thought that government was on the right track.
Mr. Epstein is entitled to his opinion, of course, but he is on the wrong side of history. The NDP may rise again, but not by following the backward-looking course that Mr. Epstein would chart. The vision he offers is one rooted in the ideological battles of the 20th century, and not the realities and the very exciting possibilities of what is increasingly emerging as a post-ideological 21st century, where no-one has a monopoly on good ideas. In a no doubt unintended irony, this self-defined champion of "true" progressive values actually emerges from Rise Again as the most reactionary of all the former members of the NDP government. He is looking backward, with a fair degree of bitterness, as opposed to forward with the kind of hope and optimism and spirit of cooperation that Nova Scotians need now more than ever.

Paul Kimball is a filmmaker and author who lives in Halifax, NS. His work includes the book The Other Side of Truth, the feature films Exit Thread, Roundabout, and The Cuckoo in the Clock, as well as documentaries for CBC, Bravo, Vision, Space, TVNZ, Knowledge, Eastlink TV, UFO TV, and SCN. He has an honours degree in history from Acadia University, and a law degree from Dalhousie University. He is a former Program Administrator of the Nova Scotia Film Development Corporation, and served as President of the Nova Scotia Film and Television Producers Association and as a member of the Nova Scotia government's Film Advisory Committee. He has an abiding love for vanilla milkshakes, mysteries and Walden moments.

Latest posts by Paul Andrew Kimball (see all)