The 2016 East Coast Paraconference
The second annual East Coast Paraconference took place last weekend (August 5th, 6th and 7th) in Liverpool, Nova Scotia, and I was fortunate to attend as a speaker. In the Internet era where fewer events like these are held – and those that do take place have seen declining attendance for years – I'm happy to report that here in Nova Scotia the Paraconference saw a marked increase in attendance from the first event held in August, 2015. The organizers in Queen's County worked tirelessly to put on a first-class show for the people who made their way to the Liverpool Best Western over the weekend, and it paid off as attendees were treated to an eclectic group of knowledgeable, thought-provoking and entertaining speakers who covered a wide range of esoteric subjects, including crop circles, UFOs, Men-in-Black, ghosts, Oak Island, and psychic phenomena.
I began my day on Friday early by heading down to the far tip of the South Shore with fellow speakers Greg Bishop and Aaron Gulyas, who had arrived the day before from Los Angeles and Detroit respectively, as well as American radio host Tim Binnall (from Boston). Our destination? The small fishing community of Shag Harbour, where we conducted a sort of pilgrimage to the site of the famous 1967 Shag Harbour UFO incident. We popped by the small museum in Shag Harbour dedicated to the event, and found that while it has seen better days, it is still a worthwhile stop to get the basics of the story for only a $2 donation. From there it was on to the actual site of the incident itself, where we stood on the shore and looked out at the foggy harbour into which some object from the sky was witnessed by multiple people, including police officers, landing (or crashing, depending on who you ask) in October, 1967. If you're at all interested in the UFO phenomenon, whether as a true-believer in space aliens or, like myself, as a more skeptical (but still open-minded) observer interested in the cultural history surrounding it all as much as anything else, Shag Harbour is definitely a stop to add on your UFO bucket list.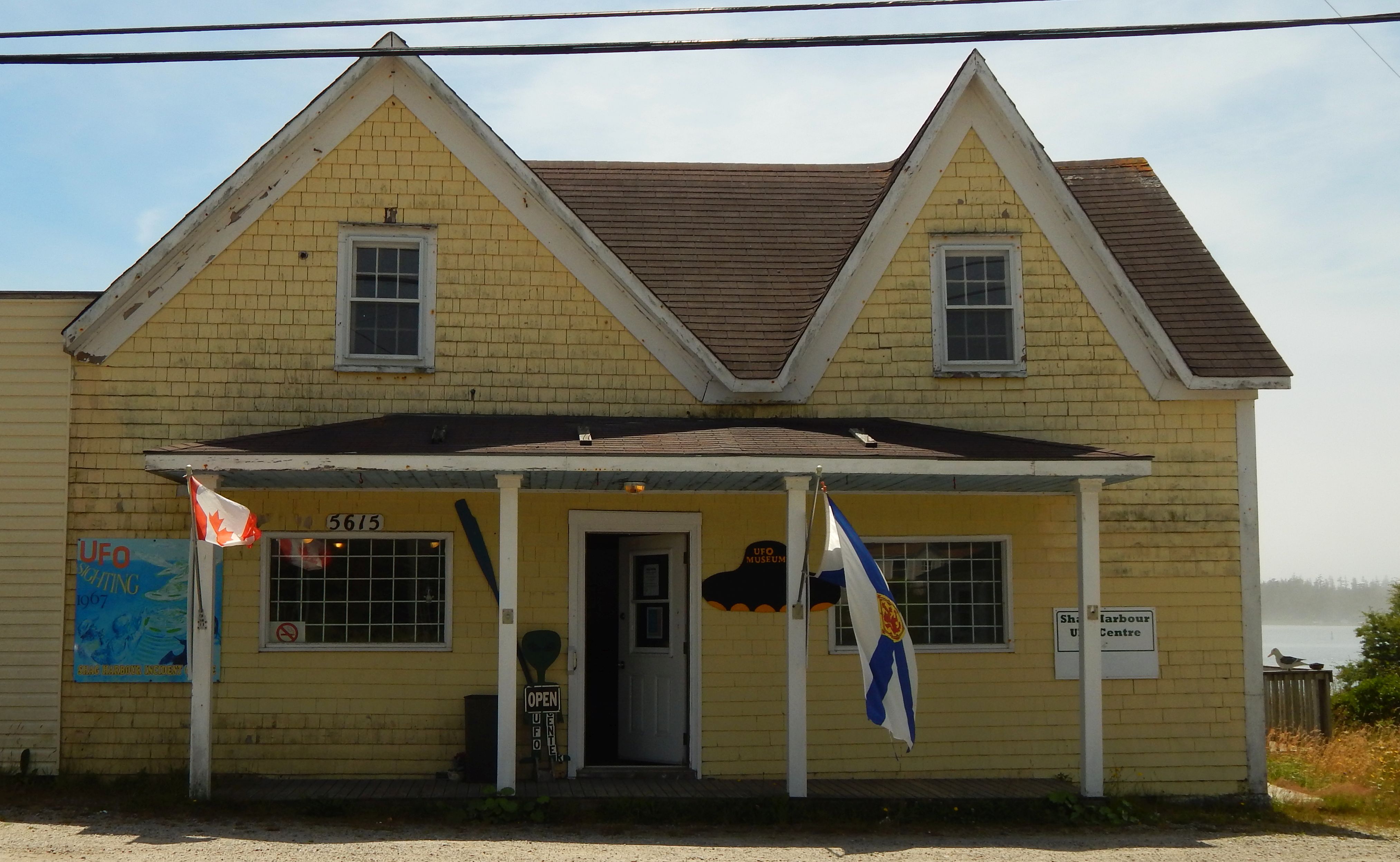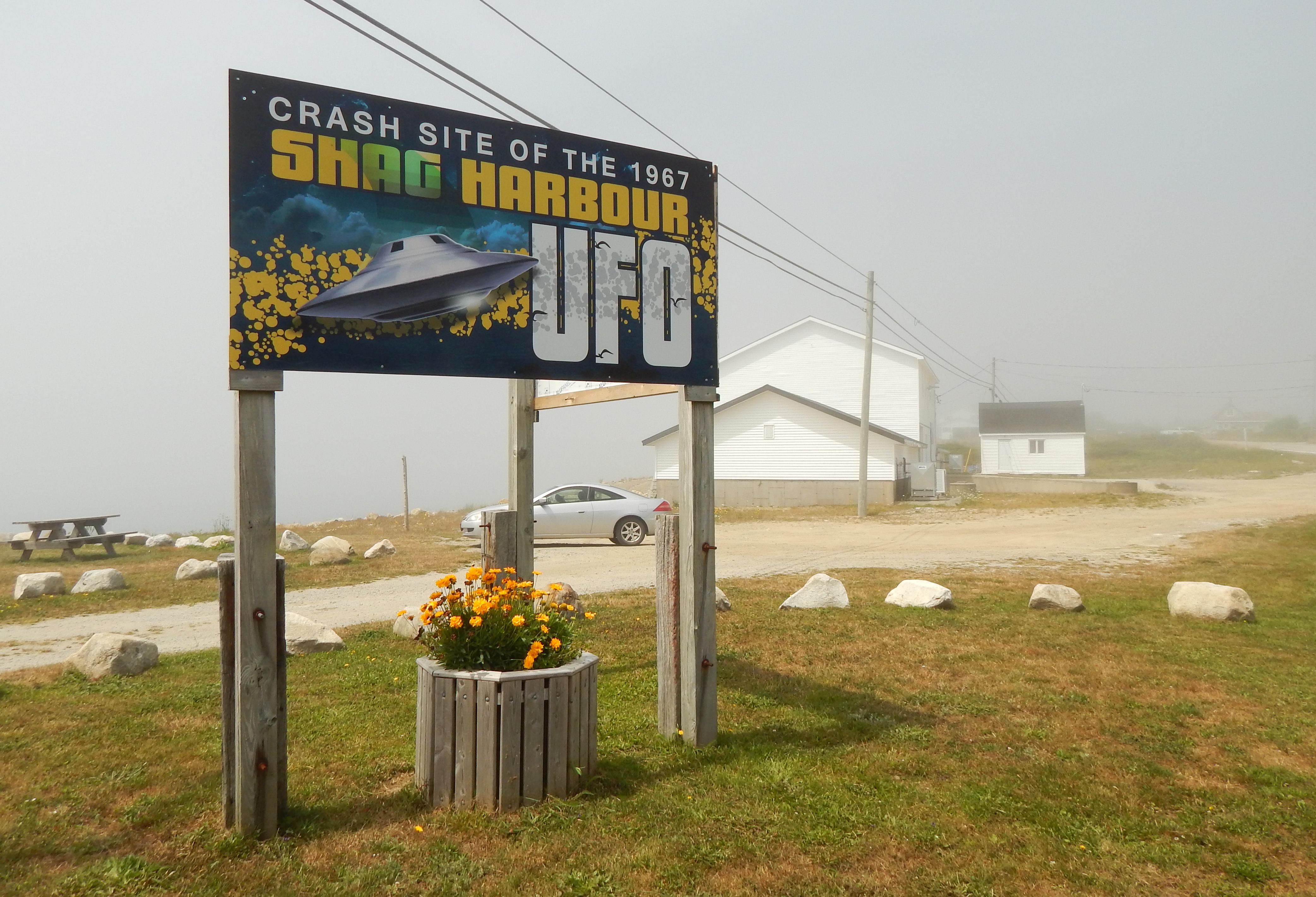 The Paraconference itself kicked off on Friday night with a meet-and-greet, where conference attendees got to swap stories with the speakers and peruse the vendor area. This was followed by a "campfire story circle" at the hotel with prolific Nova Scotia author and master storyteller Steve Vernon, while at the Astor Theatre and the Queen's County Museum local ghost investigators, aided by folks from a group called Loyalist City Paranormal from Saint John, led well-attended ghost investigations where people got to see and work with the gear that the ghost investigators use (which is cool, no matter what you think of the ability of the various devices to actually detect ghosts), as well as hear about the history of the area and, in the case of the Astor, the building itself. For my part, I stayed at the hotel and chatted up Laurie Wickens, one of the key witnesses to the Shag Harbour incident (he made the first phone call to the RCMP). A gregarious old salt in the best of the Maritime tradition, Laurie was more than happy to tell me the entire story as he experienced it from start to finish 49 years ago. Being a historian both by training and at heart, it was a highlight of my weekend.
Saturday morning kicked off bright and early with a packed house and a talk by yours truly wherein I related a couple of European paranormal encounters from my time filming the television series Ghost Cases in 2009 (a ghost investigation we conducted at the White Hart Hotel in Uttoxeter, England, and a run-in I had with a "shadow person" in the town of Český Krumlov in the Czech Republic) .
My good friend Greg Bishop, author of such books as Weird California and It Defies Language, followed with a wide-ranging and comprehensive look at crop circles. Greg started with a history of the phenomenon, showing that reports exist from hundreds of years ago, and then brought it up to the modern era, explaining how many – perhaps even all – of the modern circles were man-made, and showing how that was accomplished. But then Greg noted that many of the circle-makers (who consider themselves artists as opposed to hoaxers) had reported strange paranormal experiences within the circles even as they were making them, which might indicate a paranormal presence after all, perhaps even a kind of co-creation event. Greg concluded his talk by describing a recent experience a friend of his in the United Kingdom had when he discovered a crop circle, an experience which included a run-in with a strange person who shared many of the traditional weird characteristics of the legendary Men in Black, which provided a nice segue into Aaron Gulyas' talk about the MIB after the lunch break.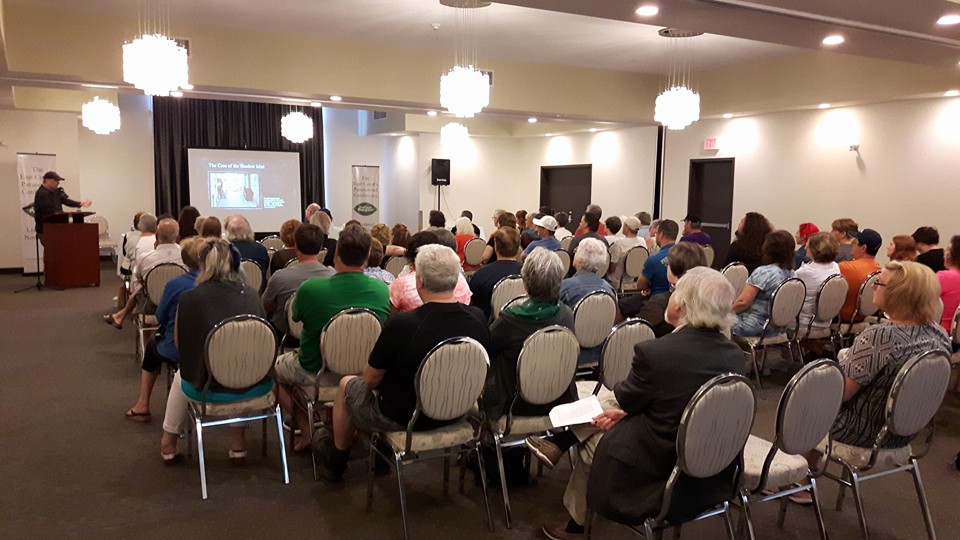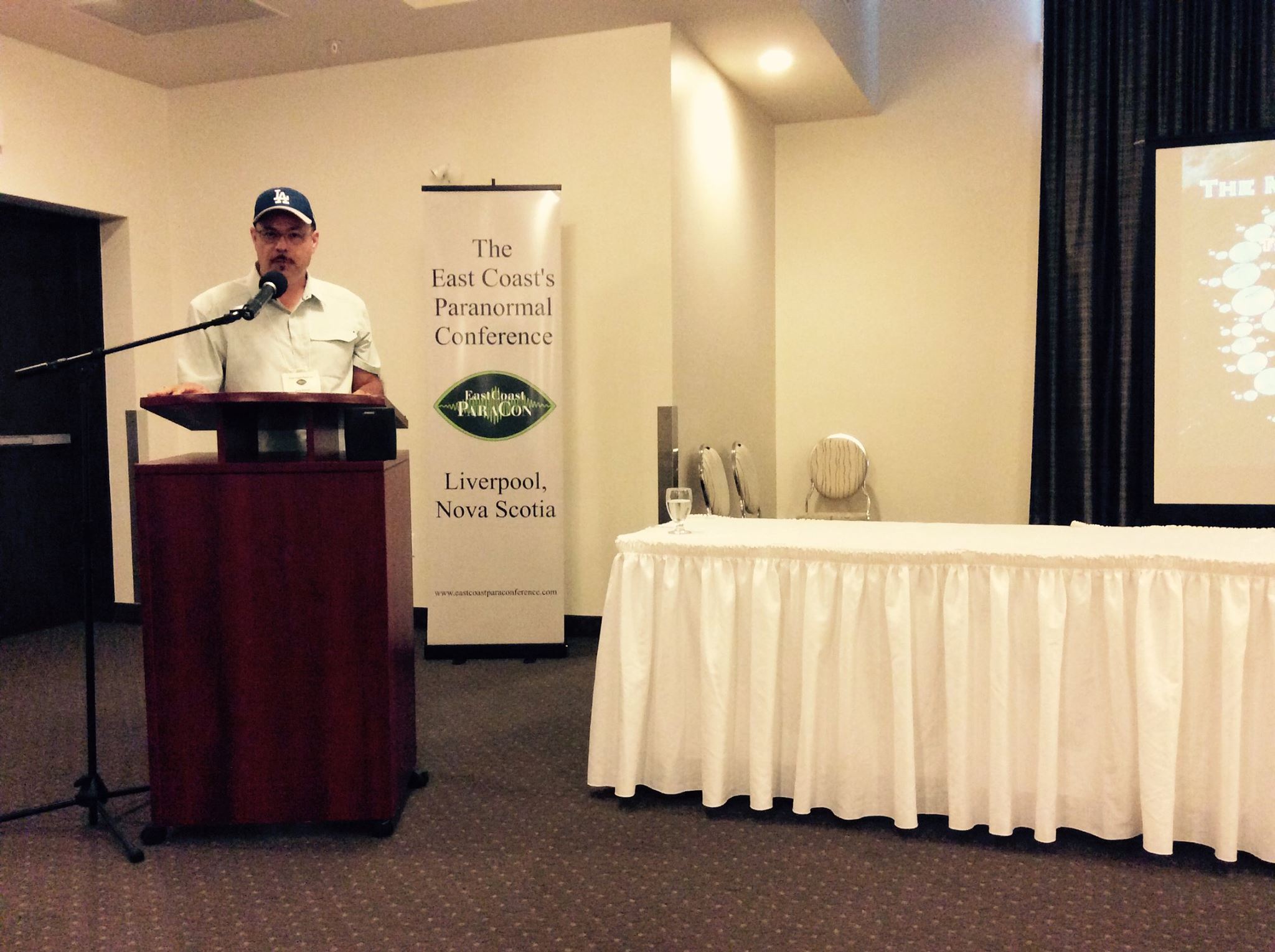 After lunch, American historian and author Aaron John Gulyas (The Chaos Conundrum, Extraterrestrials and the American Zeitgeist, The Paranormal and the Paranoid: Conspiratorial Science Fiction Television) stepped up to the podium to take the audience on a fascinating journey into a world where the lines between myth and reality definitely blur. Delving deep into the strange milieu of 1950s-era flying saucer buffs, Gulyas laid out the foundations of the Men in Black mythology as it emerged from the work of a very strange man, Albert K. Bender. Bender founded one of the first and most important flying saucer clubs in the 1950s, the International Flying Saucer Bureau, and his two associates, Gray Barker and Augie Roberts, also figure in the story of how the Men in Black came into being. How much of the story was true, and how much of it was either a hoax or, more likely, the result of Bender's own fevered imagination combined with Barker's exploitation for financial gain, nobody really knows for sure.
What Gulyas demonstrated beyond any doubt was that Bender, now largely forgotten by people who have an interest in UFOs, was a most peculiar man who had a tremendous influence on how the UFO story within American culture was shaped in its early years. Gulyas brought the story of Bender alive in a very real and personal way, at times reading directly from letters Bender had written to colleagues such as Barker and Roberts after he closed the IFSB in 1953 when he claimed "three men wearing dark suits" who represented "the higher authority" had visited him and told him to abandon his research. Gulyas closed his lecture with a humorous turn, as he recounted how he was once mistaken for a Man in Black when he and a fellow college student showed up at a crop circle and pretended to be from a "secret agency." As he stated, "At best, what we were doing could be called performance art, but we were mostly performing for ourselves. Others at the site saw it differently, however – through the lens of what they had heard so much of and come to believe about the dangers of seeking the truth. That people like me and my friend would come to intimidate them into silence." Thus are myths born, and thus do they mutate and grow.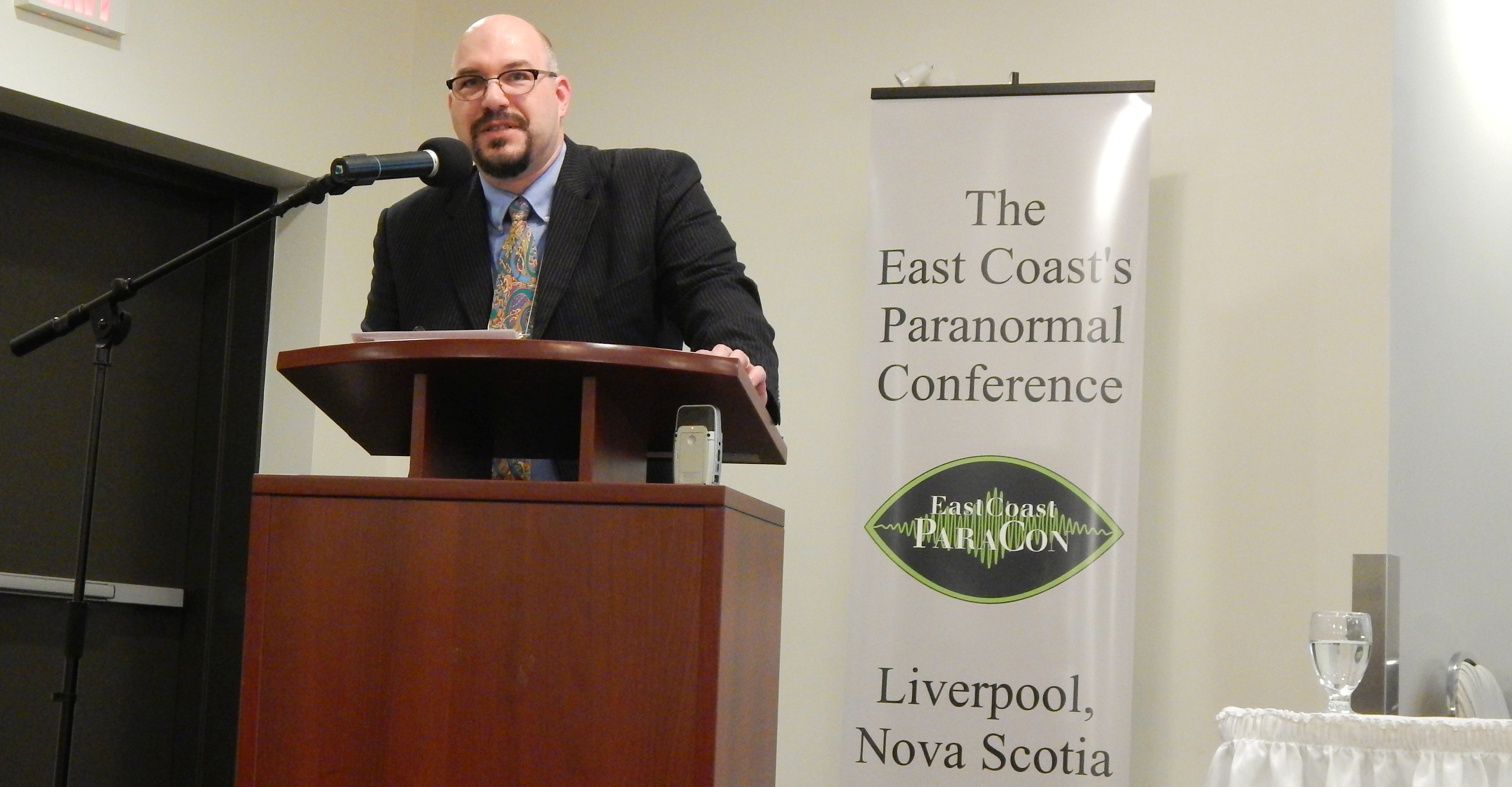 After a short break, the afternoon closed out with what was supposed to be an "author's panel" featuring Nova Scotia authors Steve Vernon and Vernon Oickle, but instead it turned into a session where the two authors took turns reading passages from their books to the dwindling audience. It's not a knock on either author to say that after a day of cracking illustrated lectures, this was a bit of a let down, despite the fact that the authors tried to inject some excitement into the proceedings – Vernon in particular, as he is more of a natural storyteller than Oickle. It's just not a format conducive to this kind of event, and it's one of the few things that need to be tweaked next year. Replacing the "author's panel" with another keynote speaker would be the best way forward.
After the afternoon session ended, I went for dinner at Lane's Privateer Inn with Greg, Aaron, and Tim, and then headed back to the hotel to take a nap (I had been going pretty much non-stop since driving up to Aulac, New Brunswick on Wednesday to pick up Tim). As a result, I missed the evening session, a special presentation with psychic – medium Shawn Leonard that was held at the Astor Theatre, but reports from those in attendance afterwards were uniformly positive. I met Leonard during the weekend, and chatted with him briefly, and he seemed like a very nice guy. Folks who saw his show at the Astor on Saturday night left with the feeling that they definitely got their money's worth.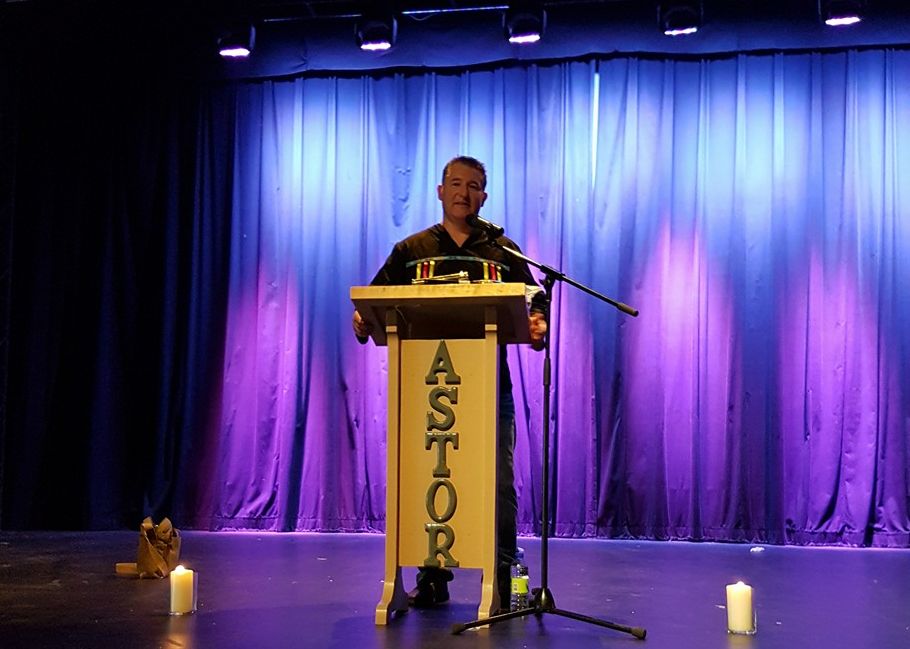 Greg, Aaron, Tim and yours truly joined conference co-organizer Kelly Connolly as well as a couple of members of the Loyalist City group and about eight conference attendees for a ghost investigation session at the Astor Theatre after the Leonard presentation was over. Kelly and the Loyalist City members walked everyone present through the gear that they used, and then related the various stories of ghosts associated with the Astor… and then we went at it. Having done an entire season's worth of "ghost hunting" on Ghost Cases, I can verify that it's not as exciting as it is usually made to look on television, but if you go with the right frame of mind (and a sense of both humour and wonder at the possibilities), you'll always have a good time. We all spent about two hours combing through the Astor, from the balcony to the basement, and while I can't report any paranormal experiences this year (as opposed to some weird stuff that happened last year when I did it), everyone had fun.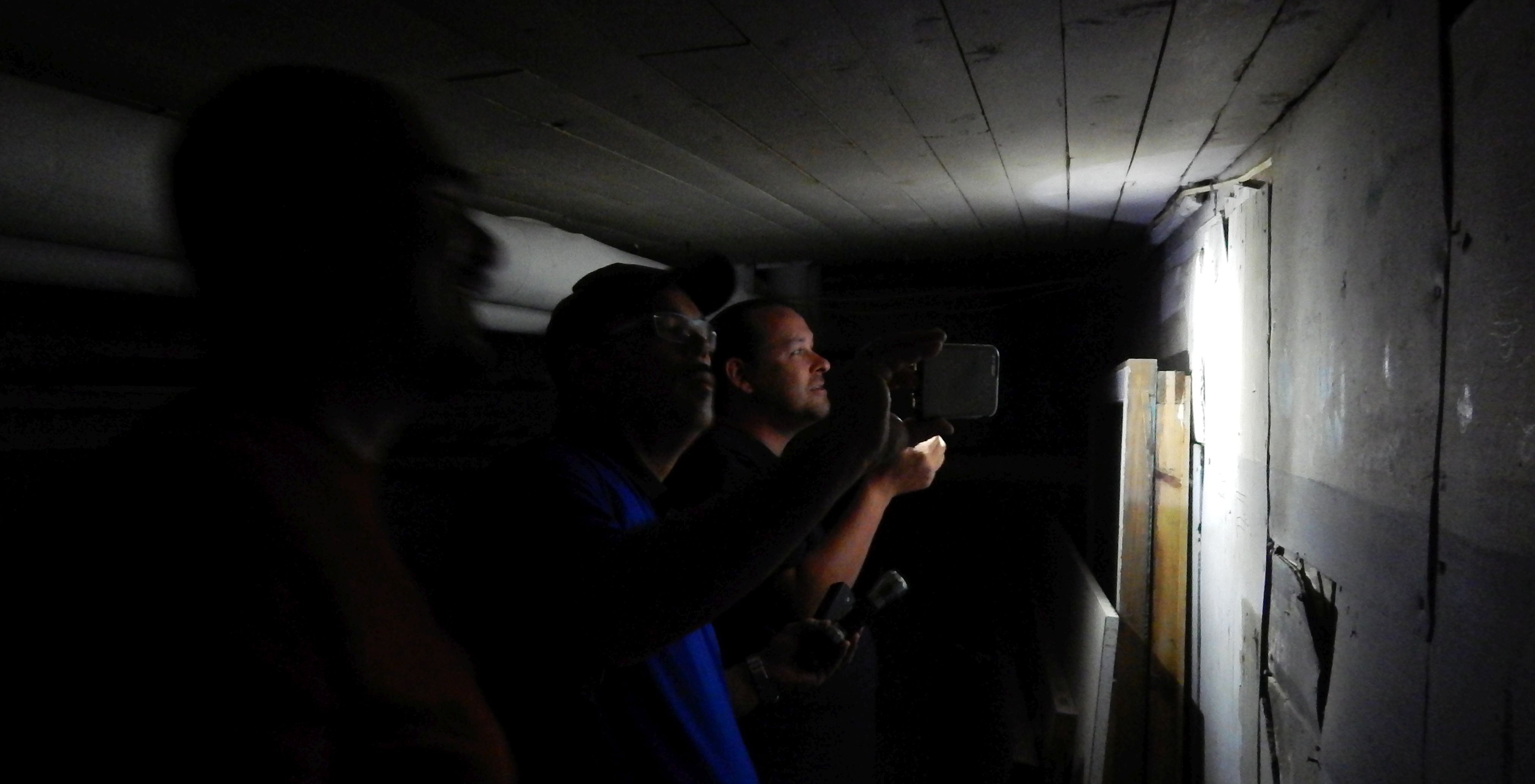 Sunday brought another day jam-packed with interesting talks. The two highlights for me were the lecture by Chris Styles in the keynote session during the morning, and the final lecture of the day by Danny Hennigar. Styles, one of the two key investigators of the Shag Harbour UFO incident (his original research partner and co-author Don Ledger is the other), spoke extemporaneously and with great passion for about an hour-and-a-quarter about the incident, detailing his own UFO encounter in Halifax from that night back in 1967 and then going on to describe the events in Shag Harbour and his research into the case. He left the last twenty minutes of his allotted time for two first-hand witnesses to the incident: Laurie Wickens, whom I had met and chatted with on Friday night, and Peter Goreham. Both men brought an immediacy and authenticity to the story that is often lost when a third party recounts it for an audience.
Hennigar is a former tour guide on Oak Island, and currently curates the Oak Island Display in Chester. He spoke about the mystery and in many respects the madness of the hunt for a legendary treasure on the island, which has never seemed much of a mystery to me but which retains an enduring fascination for millions of people around the world. A fine storyteller, Hennigar took the audience on a journey through the Oak Island story, mixing in some well-timed humour with his easygoing yet comprehensive telling of the often tragic tale. It was a great way to end the conference, because like most of the speakers he raised far more questions than he actually answered, which in my opinion is always as it should be when dealing with paranormal or mysterious subjects. The journey itself, as I like to say, is the real destination.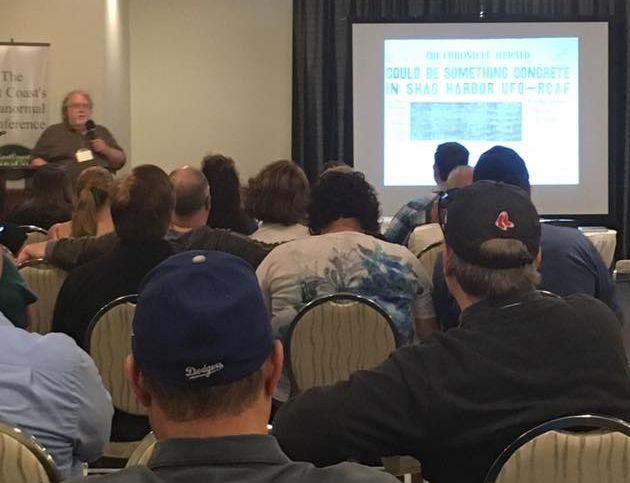 Kudos to the organizing team for putting on a world class show. I've been to many paranormal conferences in the United States and the United Kingdom over the years, often whilst filming documentaries, and the East Coast Paraconference is the best event of its sort that I've attended. It combines down-home Maritime hospitality with an eclectic array of guest speakers who challenge the audience to expand their horizons all while spinning some entertaining yarns that just may be true, much in line with the tradition of great Maritime storytellers and folklorists such as Helen Creighton.
Special credit is due especially to Linda Rafuse, the Director of the Queen's County Museum, and Kelly Connolly of the Crossed Over Paranormal Society in Liverpool, who spearheaded the weekend's activities and led the ghost investigations at the Astor Theatre and the Queen's County Museum both nights, as well as John Wiles, a silvery-voiced radio host at CKBW FM in Queen's County who acted as the MC for the event, and the entire team of volunteers (Kathleen Stitt, Irene Hupman, Tracy Samuels, Mabel Wiznephski, Fred Wamboldt, Clarke Rafuse, and Dan MacLaren). These folks have created the Paraconference as a labour of love, and it shows – never once did I see any of them without a smile on their face. Planning is apparently already underway for the third annual Paraconference in August, 2017, and I heartily recommend that anyone interested in the paranormal mark the dates of August 11th, 12th and 13th of next year off on their calendar, because the East Coast Paraconference is one of those quintessentially Nova Scotian events that you don't want to miss. 

Paul Kimball is a filmmaker and author who lives in Halifax, NS. His work includes the book The Other Side of Truth, the feature films Exit Thread, Roundabout, and The Cuckoo in the Clock, as well as documentaries for CBC, Bravo, Vision, Space, TVNZ, Knowledge, Eastlink TV, UFO TV, and SCN. He has an honours degree in history from Acadia University, and a law degree from Dalhousie University. He is a former Program Administrator of the Nova Scotia Film Development Corporation, and served as President of the Nova Scotia Film and Television Producers Association and as a member of the Nova Scotia government's Film Advisory Committee. He has an abiding love for vanilla milkshakes, mysteries and Walden moments.

Latest posts by Paul Andrew Kimball (see all)