"Shooting From The East" – A Fundamentally Flawed Misfire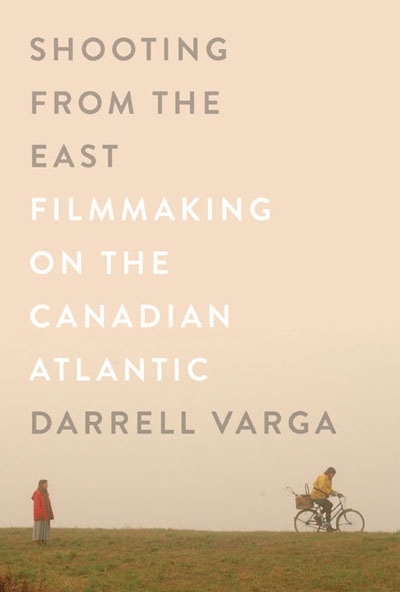 by Ron Foley Macdonald
The back jacket blurb for Shooting From The East, NSCAD Associate Professor Darrell Varga's new book on East Coast motion picture making, states that "until now, there has been no comprehensive history of this diverse body of work." Unfortunately, despite Varga's claim otherwise, his book does not provide that study.
Varga admits to bias early on in his venture, favouring the output of Film Co-ops over mainstream producers and better known, more widely seen movies and television series. The result is seriously wrongheaded. Top-rated programs such as Don Messer's Jubilee, Singalong Jubilee, This Hour Has 22 Minutes, Lexx, Theodore Tugboat, and Republic of Doyle barely rate mentions, but the entire output of a Halifax-based Marxist cell is celebrated and poured over for minute details, like ancient Roman priests examining animal entrails.
Varga also has swallowed whole the myth of Newfoundland's "lost" sovereignty, which leads to a gross imbalance in his examination of the four separate Atlantic provinces' motion picture history fairly. While detailing some of Newfoundland and Labrador's past – in the mid-20th Century, anyways – he doesn't touch the rich history of New Brunswick and Nova Scotia in the early years of North American film development.
Saint John, for example, was the home of a Studio mogul (Louis B. Meyer of MGM), and provided actor Walter Pidgeon and another top-notch producer in Harry Saltzman, co-creator of the James Bond and Harry Palmer spy series (along with several of the 'kitchen sink' Woodfall Films of Tony Richardson). Nova Scotia has been the destination of many Hollywood figures (Theda Bera, Arthur Kennedy, Ethan Hawke) whilst sending actors Ruby Keeler and David Manners to the Hollywood A-List. Actor Wallace MacDonald was one of known as the 'Cape Breton Keystone Cop; he eventually became an important producer at Columbia Pictures. None of them are even mentioned, much less examined in the detail they merit.
Halifax was the location where two internationally acclaimed producer / directors made separate globally distributed film in the darkest hours of World War Two. Howard Hawks made Corvette K 225 starring Randolph Scott, a drama about the Canadian Navy for Universal Pictures. Documentarian Joris Ivens made a non-fiction 45-minute feature for the National Film Board at the same time entitled Action Stations in the city. Both films portrayed Halifax as a modern industrial port. These films, and the particular point of view of Halifax as a cosmopolitan, up-to-date place on the front line of a World War, seem to be missing from Varga's book.
Action Stations by Joris Ivens, National Film Board of Canada
Of course, those two widely seen films don't fit the wrongheaded view of Nova Scotia that has been put forward by Ian MacKay, who is quoted extensively by Varga. McKay's silly "People Of the Folk" notions posit the image of the province as a backward, rural-based fantasia exploited by Tourism departments to attract American visitors. That simplistic view is now taken as gospel by many in academia, despite the evidence otherwise. One example? Varga's own NSCAD roost was rated as the "most important Art College in the world" by none other than the New York Times back in 1973. That's not my definition of a bucolic backwater.
Indeed, the emphasis on peripherals and the avoidance of the mainstream contributions of Atlantic Canadians to the larger North American cinematic mosaic only furthers the sense of exotic that Varga claims to be trying to avoid.
His dismissal of the Glace Bay-born director Daniel Petrie is particularly unfortunate. Petrie returned to Nova Scotia to make three features. One of them, The Bay Boy, is the only example of a successful Canadian filmmaker who went to Hollywood and then came home to make a film about his origins. None of Petrie's contemporaries – Norman Jewison or Arthur Hiller, for example – ever did so. Further, Varga states that the Atlantic Filmmaker's Co-op and the Atlantic Studio of the National Film Board were created in 1973 after a paucity of film activity on the East Coast – ignoring the fact that in the previous year Petrie shot The Neptune Factor in Halifax, in the process providing some of the impetus for the creation of both organizations.
As a researcher, Varga is often unable to connect the dots. Comparing a PEI short film to the cult classic "Two Lane Blacktop," for example, he neglects to mention that "Two Lane Blacktop" was written by Cape Breton resident Rudy Wurlitzer. And talk of a Newfoundland film mission to Ireland, shot as a documentary, results in a statement that the "impenetrable" author James Joyce loved a good pop song. Unmentioned is the fact that James Joyce also operated a cinema in Dublin, a more salient point in a discussion of film history, one would think.
Varga did see lots of films, and he interviewed quite a few filmmakers. His appreciation of William D. MacGillivray's work is heartfelt, but even there his writing is a bit muddled. His description of the ending of MacGillivray's feature Vacant Lot interprets the events incorrectly. He states that the car at the airport implies the characters have escaped to Los Angeles or Toronto. The image actually is ambiguous, but it suggests the characters might have perished by carbon monoxide poisoning while trying to keep the vehicle warm as they watch the planes arrive and depart.
There are other mistakes in the book. A statement, for example, that the Nova Scotia government supported a studio complex in Yarmouth is just flat-out wrong – the studio was in fact located just outside of Shelburne at the old Canadian Forces base in Sandy Point. Mistaking Shelburne for Yarmouth is the kind of fundamental error that can only be made by someone who hasn't spent any real time in either place. Further, Varga states that the great Frankfurt School leader Theodore Adorno "was no friend of Brecht," which completely ignores the fact that Adorno and Fritz Lang crucially sponsored Brecht's admission into the United States during World War Two. They even found him work writing the script of Hangmen Also Die. Otherwise, Brecht would have spent the rest of the war in an internment camp.
These errors are unfortunately just the tip of a very large iceberg. One that is particularly grating is the constant misspelling of acclaimed filmmaker Thom Fitzgerald's first name as "Tom" (it's even indexed as "Tom"). It's little things like this that evidence Varga's lack of attention to detail. Seriously, how difficult would it have been for him to get things like that right? 
For the interviews, one must grant Varga at least a little credit. As for the rest of Shooting From the East, however, it rates as a fundamentally flawed misfire, and a real lost opportunity. It is marred by turgid prose, and a focus on a few trees that Varga deems significant, at the expense of an entire forest of accomplishment. Filmmakers who got profiled might want to request a copy for their own archives, but everyone else will probably want to give it a pass.

Ron Foley Macdonald is a filmmaker, musician, author, and arts journalist who lives in Halifax, NS. He has written for such publications as the Halifax Daily News, The Globe and Mail, The National Post, and Take One. He taught film history for 15 years at the Nova Scotia College of Art and Design, and has also taught at Dalhousie University and Mount Saint Vincent University. For two decades he was the Senior Programmer at the Atlantic Film Festival. He is currently the curator of the film and video series at the Dalhousie Art Gallery, and the producer of the recent feature films Exit Thread and Roundabout.

Latest posts by Ron Foley Macdonald (see all)