The Top 20 Albums by Nova Scotians
by Paul Andrew Kimball & Ron Foley Macdonald
Nova Scotia has always punched above our per capita weight when it comes to creative output, and nowhere has that been more pronounced than in our music. From folk to rock to pop to country to classical, some of the biggest stars in Canadian history have come from this small and sometimes forgotten region of the country, and if more than a few of them had to leave in order to make it big, well, that's okay – consider them a fifth column sent out to remind our fellow Canadians (and the world at large) that we're still here.
Yours truly and Ron Foley Macdonald (my filmmaking partner, co-writer and old friend) are both former musicians. Ron began his career in the late 1970s during the punk movement and continued on through the 1980s and into the Halifax Pop Explosion in the 1990s with his band The Fourth Wall. He was also the longtime music critic for the Halifax Daily News. I began playing at Acadia in the 1980s at coffee houses, and then after I graduated from law school in 1992 I decided that I would rather write songs than legal briefs, so I too signed up for the magical mystery tour that was music in Halifax in the 1990s, first with Tall Poppies and then Julia's Rain. Eventually both Ron and I decided that we weren't going to be the next Paul McCartney (or rather, the people decided and we accepted their verdict), and we moved into the film industry, as so many fellow musicians did –  but the music never left us. Ron still co-writes with his longtime friend Brett Ryan, and I made documentaries and television series about music in the 2000s before transitioning to making feature films (where I have always made sure to use some local music in the soundtracks).
All of which brings us to this list, which is really the culmination of myriad conversations over coffee we have had during the past fifteen years about the history of music in Nova Scotia, and who might have been the best at doing what so many were really, really good at. As we got together to come up with this list (a process of give and take over several weeks), we realized that we could have easily made a Top 40 album list and still not have begun to exhaust all of the possibilities. Buddy MacMaster, Matt Minglewood, Blackpool, Wintersleep, Bucky Adams, Mir, Cool Blue Halo, Little Ministers, Jenn Grant, Rose Cousins, Brett Ryan, The Johnny Favourite Swing Orchestra, Melanie Doane, Al Tuck, Mary Jane Lamond, John Allan Cameron, and so many more, would have been fine choices. It was particularly hard for me to leave Blackpool's We The Living off the Top 20, because it's always been a personal favourite, and "Man on Pier 21" is a song that I still listen to on a regular basis when I'm working (you can hear it here). Consider it my #20A.
Any list like this is by its nature idiosyncratic, and we understand that. But our goal is to get a conversation going, and remind people of just how much great music has come out of this Province. Most of my friends, for example, probably haven't listened to Hank Snow's great album "When Tragedy Struck," and probably even fewer are aware of Pepper Tree. Many of my alt rock colleagues in the 1990s would have turned up their noses at the idea of April Wine or Anne Murray being able to make great music. Jon Mullane is overlooked even today in his hometown. And far too often we modernists bypass the classical and jazz artists in our midst, people like the amazing Denise Djokic and Holly Cole. Well, they're all here because we think they deserve to be here. And if we might seem a bit too beholden to Sloan's influence by placing three of their albums in our top 20, well, what can we say… they really are that good. But they're not #1 for us, because there is one album out there that we think transcends even the best work by Halifax's fab four.
And now, without further ado… here we go!
Paul Andrew Kimball
P.S. Ron and I split up the reviews, so when you see RFM after a write-up it's because he wrote it, and if you see PAK it's because I wrote it.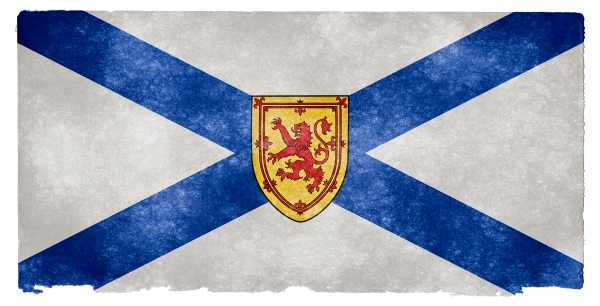 1. The Heavy Blinkers – The Night and I Are Still So Young (2004)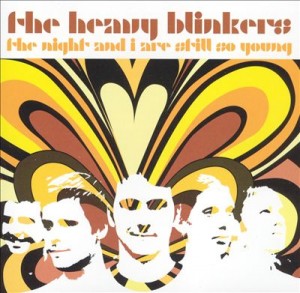 Formed by former Holden Wheeling head-honcho Jason Michael MacIsaac and a group of his Haligonian '90s music scene friends, including keyboardist and songwriter Andrew Watt and ethereal vocalist Ruth Minnikin, The Heavy Blinkers had become critical darlings far beyond the borders of the 902 region by 2004. Their intricate and tightly constructed chamber pop had won them widespread acclaim, albeit without corresponding commercial success, on albums such as their eponymous release in 2000 and Heavy Weather in 2002. But it was in 2004 on their fourth album, The Night and I Are Still So Young, that the band took a quantum leap forward. With all but two of the songs written by MacIsaac, the record stands as a singular testament to both his songwriting genius and his ability to direct a collaborative enterprise of talented fellow travelers who are each given plenty of room to bring their own strengths to the overall mix. Comparisons with the best work by Brian Wilson at the height of his powers are justly deserved and well-earned on this luscious, dense masterpiece of pop songcraft. Multi-tracked vocals, with an affecting interplay between Minnikin, Watt and MacIsaac, combine with a virtual enchanted forest of arrangements to create a grand song cycle and sonic landscape unlike anything else produced in Nova Scotia. The Blinkers splintered after The Night and I Are Still So Young, almost as if even they realized that they had reached the apotheosis of what they could accomplish in that incarnation. MacIsaac brought an entirely new version of the band together for the compelling 2013 album Health, a release which showed that neither time nor distance had dimmed his talents. But it is The Night and I Are Still So Young where he and his friends achieved true greatness, having assembled a group of songs and a musical collective that transcended pop music and created a true and timeless work of art.  – PAK
2. Sloan – One Chord to Another (1996)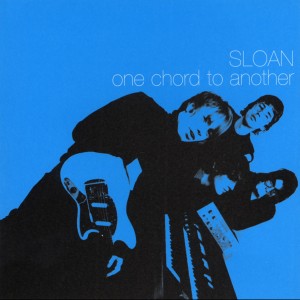 Not only is Sloan the greatest band to ever come out of Nova Scotia, releasing a non-stop string of great and near-great albums since they first exploded on the scene at the vanguard of the Halifax Pop Explosion in the early 1990s (and spawning an entire subculture of imitators ever since), but one can make the case that they are the best band to ever come out of Canada, a group whose songwriting chops, pop professionalism and consistency set them apart from any of their peers, either before their arrival or since. Originally pigeon-holed as a grunge group, Sloan quickly broke free of that dead-end street and revealed themselves as a band that had much more in common with Teenage Fanclub and The Beatles than Nirvana and Pearl Jam. Their second album, Twice Removed, was their Rubber Soul, wherein they charted an exciting new musical direction for themselves; two years later they followed-up with One Chord to Another, which stands as their Revolver, a glorious and timeless survey of the pop music landscape. Loaded with jangle-pop riffs, hooks and harmonies galore, and irresistible melodies, One Chord to Another blasts out of the gate with the thunderous "The Good in Everyone," a 2 minute sing-along rocker that ranks as one of the most potent opening songs on any record, anywhere, any time, and doesn't let up from there. The songs that followed were all gems, each one revealing a foursome firing on all musical cylinders, at the height of their powers. It remains the highlight of their wonderful career, and one of the great albums from the 1990s. Often imitated but never replicated (not even by Sloan themselves), One Chord to Another is the kind of album that only the best groups can ever hope to cut. – RFM
3. Hank Snow – When Tragedy Struck (1958)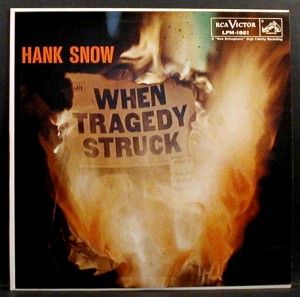 Whereas England's Mersey River region gave the world the greatest rock band of all time, Nova Scotia's Mersey River was the birthplace of one of the great country artists of all time, the legendary Hank Snow (when they build a museum to celebrate your life and career in your home town, you have earned the title of "legendary"). Snow came from the ranks of the working poor and a broken family, living through the break-up of his parents when he was only eight years in 1922. The local authorities decided that the children should be taken from their mother because of her inability to support them financially. One of Snow's sisters moved in with an aunt, while the other two were sent to separate foster homes. Snow himself went to live with his paternal grandmother who ordered him never to mention his mother's name and subjected him to severe beatings as well as psychological abuse. Eventually Snow was allowed to rejoin his mother after his grandmother failed in her attempt to get him sent to reform school, but his mother's new husband was abusive, and four years later Snow ran away from home at the age of twelve, taking work as a cabin boy on a fishing schooner. He struggled to earn money up through the Great Depression in various jobs as a labourer, until he decided to try his hand at music in the mid-1930s, inspired by his mother, a talented singer and pianist who had turned down offers to play in traveling shows so she could care for her family. Snow found early local success. and the rest, as they say, was history. But the hard times of his early years never left him, and informed his music throughout his career (a career that included giving a young Elvis Presley a big break at the Grand Ole Opry in 1954 as Snow's opening act; Snow would partner with Tom Parker as Elvis' management team until 1955, when Snow was pushed aside). By the time of his death in 1996, Snow had been voted Canada's top country music performer ten times and had been inducted into the Country Music Hall of Fame, the Canadian Music Hall of Fame, the Nova Scotia Music Hall of Fame, and the Canadian Country Music Hall of Fame. Like I said, a legend… but you might ask why I recount it all. Because in order to understand Snow's 1959 album When Tragedy Struck, you need to appreciate his story. A concept album built around songs of sorrow, it reflected all of the life experience that Snow had built in his first forty-four years, nowhere more so than on his heartbreaking reading of "Nobody's Child." Honest and authentic in a way that you'll seldom hear on any record, the album bleeds despair from the darkest corners of the soul. But even in the midst of all the heartache, Snow manages to inject some notes of optimism. The result is a record that perfectly encapsulates the yin and yang of his life – the tragedy that he could never quite leave behind, mixed with the hope he always had for the future. – PAK 
4. Sloan– Never Hear The End Of It (2006)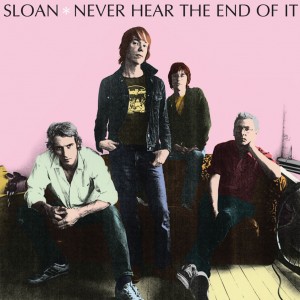 When you have already recorded two albums (Twice Removed, One Chord To Another) that many music critics considered amongst the best ever made by a Canadian band, what do you do next? For Sloan the answer was… more of the same. Navy Blues, Between the Bridges, Pretty Together, and Action Pact, the four albums that followed One Chord To Another, were all solid and well-crafted releases, each with its charms, but the band wasn't really breaking any new ground. With each succeeding effort, they moved further into a comfort zone of more or less cloning their past successes. It was all done with consummate professional pop songcraft – there is no such thing as a bad Sloan album – but it was impossible for fans not to wonder if maybe we had all heard the best that the fab four had to offer. That's what made Never Hear The End Of It such a welcome surprise, because it saw the band take the same kind of risk that they had when they turned their back on grunge (and their US record label) with Twice Removed. Eschewing a single album of self-contained pop songs, Sloan decided to make a concept album that in broad strokes mirrored the second side suite from Abbey Road. The hooks and the harmonies are all still here, but the band stretches out creatively for the first time in a decade and truly embraces the art of making pop music without ever once veering off into self-indulgence. The result is a band that sounds as liberated and fresh as they did in 1992, only this time adding the maturity that the passage of years inevitably brings (the hauntingly beautiful "It's Not The End of the World" and the emotionally self-referential "Fading Into Obscurity" are songs that the twenty-something members of Sloan couldn't have pulled off, for example). It's an album that reminds me of Prague, a city they say you haven't really experienced unless you've gotten lost at least once wandering down all of its narrow alleys and back passages. There is so much going on here, and so many subtle little musical and lyrical side-streets, that each listen reveals something new and exciting, and ties one part of the album to another in a way that you hadn't noticed before. Most bands don't get a first act to their careers as successful as Sloan's, much less a second act that sounds as inspired and adventurous as Never Hear The End Of It. – PAK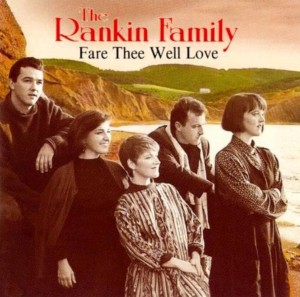 Independently recorded and released and only picked up by a major label after the Mabou born musical family had already sold more that 50,000 albums out of the trunks of their cars after gigs, Fare Thee Well Love was a true indie success story – a DIY effort that eventually topped the Canadian charts. An unlikely blend of melancholy country shuffles, Cape Breton fiddle tunes and lush pop arrangements that deftly weaved the heavenly voices of the three Rankin sisters (Cookie, Heather and Raylene) together with brother Jimmy's haunting and husky tenor, the album set the tone for a career which blazed a trail for a Celtic Music revival that still hasn't abated. Full of authentic Maritime heart and soul, Fare Thee Well Love is a stunning achievement from beginning to end, layered with subtle musical textures and resonant lyrical themes. All of the songs are captivating (highlights include the Rankins' soaring rendition of the traditional song "Fair and Tender Ladies" and Raylene's lovely and evocative country-tinged ramble "Gillis Mountain"), but it is on the title track, penned by Jimmy, that the Rankins create their most memorable song. "Fare Thee Well Love" has still not been matched as a heart-wrenching East Coast classic, an epic reflection of love and loss and the kind of dislocation from time and place with which so many Maritimers are so sadly familiar. Once heard, it can never be forgotten. – RFM
6. Sarah McLachlan – Fumbling Towards Ecstasy (1993)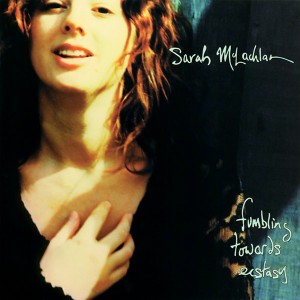 Sarah McLachlan grew up in Halifax, and began her music career as the singer for the local new wave group October Game. On the strength of her work in that group, she was approached by Nettwerk Records and offered a solo deal. She initially turned it down in favor of continuing her university studies in Halifax, but eventually she reconsidered and accepted the offer in late 1987. She relocated to Vancouver soon after (Nettwerk was based out of Vancouver), cut her first album, Touch, and was promptly picked up for international distribution by Arista Records largely based on the strength of the soaring single "Vox". Her sophomore effort, the stunning Solace, garnered her international acclaim and a growing fan base, and then she exploded into superstardom with her third and finest release, the majestic Fumbling Towards Ecstasy. A deeply personal album about love and loss and all of the conflicting emotions that come between those two extremes, the record was anchored by the smash single "Possession," a dark song about a stalker that echoed The Police's "Every Breath You Take" from a decade earlier in its examination of the obsessive nature of attraction. Fumbling Towards Ecstasy is deep and wide (it contains lighter moments, like the delightful "Ice Cream," to counter-balance the darkness), lifted at all times by McLachlan's ethereal voice and emotionally honest delivery. It is a lush and complex record that demands repeated listens, and stands as her finest work in a career that has served as an inspiration for an entire generation of female artists. – PAK
7. April Wine – Stand Back (1975)
April Wine are a bit like the Rodney Dangerfield of Nova Scotia bands – they don't get always get the respect they have earned, at least not from the local hipsters – but in terms of pure commercial success they are the most prominent band to hail from the 902. Whilst much of their album material was rather pedestrian fare throughout their career, with the band usually summoning up a couple of hook-laden singles on each and then filling the rest of the record with a bunch of inconsequential filler, frontman and songwriter Myles Goodwyn did manage to harness his considerable songwriting talent on two fully-formed AOR Rock classics, The Nature of the Beast in 1981 (more on that below), and their breakthrough smash hit album, 1975's stunning Stand Back, which had the distinction of being the first album by a Canadian band to go platinum in Canada… and with good reason. Loaded with power rock hits, the album plays like a memory stick for anyone who was alive and listening to North American radio in the 1970s (or classic rock radio ever since). "Oowatanite," with it's ringing fire alarm at the beginning, kicks off the proceedings with a bang, and the band don't let up for a second after that. "Cum Hear The Band," "Victim of Love," "Just Between You and Me," "I Wouldn't Want Your Love Any Other Way," and especially the gorgeous power pop love ballads "I Wouldn't Want to Lose Your Love" and "Tonight Is A Wonderful Time To Fall In Love" (both songs to which more than a few current 40 year olds were probably conceived) are all solid gold. The band is tight throughout, providing a firm foundation for Goodwyn's towering vocals. Stand Back is as good as 1970s arena rock gets, a razor sharp blast of irresistible power pop / rock from the Great White North that is as compelling today as it was forty years ago. – PAK
8. Buck 65 – Talkin' Honky Blues (2003)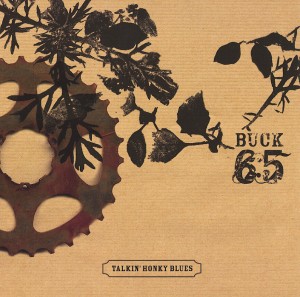 Long before Rich Terfry became one of the voices of CBC Radio, he was Buck 65, an artist of such original vision that it's impossible to categorize him. He began as a table-scratching hip hop artist straight out of the underground here in Nova Scotia, or as he himself described it, "Street credibility: zero. Dirt road credibility: up the yin yang." His initial low-fi DIY offering attracted the attention of Warner Music Canada, and they signed him to not only a record deal going forward, but also a deal to release his past indie work. Terfry has the soul of a poet to go along with a deft sense of rhythm, drawing from the great Beats as much as anyone for his inspiration – you can hear echoes of Bukowski, Ginsberg and Kerouac scattered throughout his work. He was also an artist who refused to be constrained by the expectations that other people put on him, which is what led to his finest work, the career-defining masterpiece that is Talkin' Honky Blues, an album that is as much alt-country as it is hip hop. Here we have a more mature and world-weary Terfry painting complex and indelible portraits of people living on the fringes of society coping with a world that sometimes seems to have gone mad (my personal favourite is ""the one-eyed cyclist who never wears any socks, he covers his mouth with his hand when he talks" found in "Riverbed 3")… subjects that include Terfry himself, as he gets confessional and introspective on some of the album's best cuts. Using a full band that includes pedal steel guitar, the music provides an eclectic and engaging foundation that is in every respect the equal of the poetry on an album that is part folk, part hip hop, part country, and part Beat jazz. In other words, an entirely original work from a master storyteller. – PAK
9. The Guthries – Off Windmill (2000)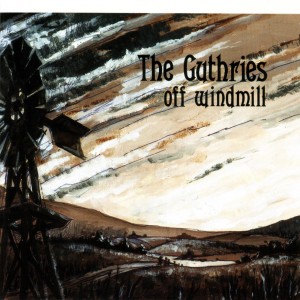 One of the great challenges to confront country music ever since the rise of rock 'n' roll and pop has been trying to answer the question of how to incorporate elements of the latter without undermining the integrity of the former. The Byrds, Gram Parsons, Bob Dylan, The Band, Steve Earle and others led the way in the late 1960s in through the 1980s, and they have since been followed by the alt-country movement, highlighted by the likes of Uncle Tupelo, Whiskeytown, The Jayhawks, Wilco, and Blue Rodeo in Canada. It's a fine line to walk, and there have been many artists over the years that have failed miserably at it, but when it works listeners are treated to the best of both worlds… which brings us to the Dartmouth band The Guthries. This alt-country collective blended the best of country and pop in their visionary debut 2000 release Off Windmill, an album that covers a wide and open range of territory with fearless gusto, accomplished musicianship, and a good-natured spirit of adventure. With Matt Mays, Dale Murray, and Ruth Minnikin (who was pulling double-duty at this point with The Heavy Blinkers) alternating the lead vocals (and combining for some truly wonderful harmonies), the band leaves no stone unturned in their exploration of the alt-country aesthetic, offering up such gems as "Season To Leave," "Rhubarb Pie," "Trials and Tribulations," "Gather Round," "Left on Pages," and the rollicking single "Better Part of an Hour." This is a warm and inviting album that was clearly made with heart and soul by musicians who possess both an appreciation of the past and a unique vision for the here and now. It is both modern and traditional, and it is utterly compelling at every turn. – PAK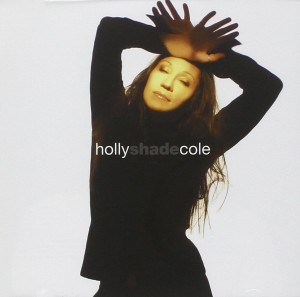 One of the best-selling Canadian jazz artists of all time, Holly Cole has just as much claim to the title of the voice of Canadian jazz crooners as her more internationally renowned contemporaries Diana Krall and Michael Buble… and maybe more. Born and raised in Halifax in 1963, Cole went down the road to Toronto in 1983 to pursue a career in music… and what a career it's been! Her debut album, 1990's Girl Talk, was a classic that vaulted her into the national consciousness. She followed that record with a series of solid efforts over the following decade, albums such as Don't Smoke in Bed (1993) and It Happened One Night (1995), but while each one contained flashes of brilliance, they were lesser creations than her debut. As the decade wore on, with releases like 1997's Dark Dear Heart (which contained a fumbling cover of The Beatles' "I've Just Seen A Face"), she seemed to be drifting away from the true and honest jazz metier that was really her strong suit. She remained charming, and capable, but she was no longer challenging either herself or her audience. But in 2003 everything changed when she released her finest album to date, the smoldering Shade, a summer-themed disc that featured songs like Irving Berlin's "Heatwave" and Cole Porter's "Too Darn Hot." The album is highlighted by achingly beautiful renditions of Brian Wilson's "God Only Knows" and the Rodgers and Hammerstein standard "We Kiss In A Shadow," where she employs her film noir voice to full emotional effect, accompanied only by the piano. It's a track I can listen to late at night that will both bring a smile to my face and tears to my eyes. The entire album is a minimalist love letter to the power of great songwriting, anchored by note perfect arrangements, inspired interpretation and poetic performance. "When the heat gets me down, I'd like something cool," she croons on Billy Barnes' "Something Cool"… and that's exactly what she delivers on Shade – something unforgettably cool. – PAK
11. Sloan – Twice Removed (1994)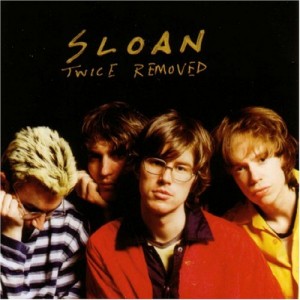 It's easy to forget now, but at the time they recorded Twice Removed, Sloan's sophomore album was viewed by their US record label as a failure. Geffen so disliked it that they asked the band to re-record the entire thing. Sloan wisely refused. The Halifax foursome stripped themselves of the 'grunge' label that had been slapped on them after their breakthrough single "Underwhelmed" and initial album Smeared and revealed the power pop band that they really were, which set them up to be something much more important than the East Coast Nirvana knock-off that the moguls at Geffen had in mind. The wisdom of Sloan's move was revealed on every song they recorded for Twice Removed, an album that delivered a crisp pop panopoly and revealed the precision, poetry and passion of the band's songwriting. Songs like "Coax Me," "People of the Sky," and "Pen Pals" still sound as fresh and immediate now as they did twenty years ago, as each of the band's four members – Chris Murphy, Patrick Pentland, Jay Ferguson, and Andrew Scott – began to establish their own voices as songwriters while at the same time coming closer together as an overall unit. America's loss was Canada's gain, as Twice Removed proved to be the true launching pad for a career unmatched north of the 49th parallel in the 1990s and 2000s. – RFM
12. Ashley MacIsaac – Hi™ How Are You Today? (1995)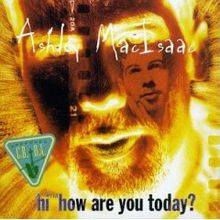 One of the very few albums to successfully integrate traditional Celtic music with modern dance pop, Cape Breton fiddling wunderkind Ashley MacIsaac's Hi, How Are You Today was the most unlikely of smash crossover records, going double platinum in Canada and spawning an international hit single in "Sleepy Maggie," on which MacIsaac enlisted Celtic songstress Mary Jane Lamond to sing the haunting and ethereal Gaelic vocals (the song would spark Lamond's own successful crossover career in the years that followed). MacIsaac has stayed remarkably true to the enduring Cape Breton fiddle tradition from which he emerged, even as he has from time to time continued to mix it with more contemporary forms with varying degrees of success. But it was on Hi, How Are You Today that he truly managed to bring the old and the new worlds that define so much of the Nova Scotian story together in a way that had never really been attempted before. As a result, the record stands as not only a musical achievement of the first order, but a cross-cultural one as well. – RFM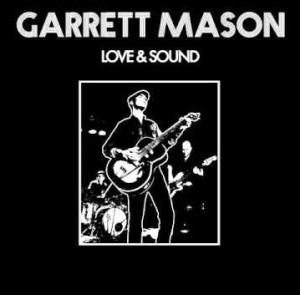 When you're the son of the man B.B. King declared the "Prime Minister of the Blues" you have quite the legacy to live up to, but Garrett Mason has never once backed down from the challenge. Passionate blues. Blistering rockabilly. Keening country touches. Blend them all together and you get Mason's 2008 long-player Love & Sound, the disc that convinced the skeptics his initial well-received recordings were no fluke. Working almost exclusively in a tight trio format, Mason echoes his legendary father Dutch's great achievements while carving out indelible blues territory on his own. One of the East Coast's most potent six-string slingers, Garrett's intense vocals and relentless delivery on Love & Sound reveal a musician whose lineage was just the introduction to a story that he was determined to write on his own terms. Love and Sound is an album that howls from the beginning to end. "We got to get together so we can do our thing," wails Mason on the title track – and what a "thing" it is! – RFM
Denise Djokic is the greatest classical musician to ever come out of Nova Scotia. Full stop. Hailing from a musical family (her parents Lynn and Phillippe are musicians, and her younger brother Mark is an accomplished classical violinist), Djokic took the classical world by storm at a young age and hasn't let up since. A virtuoso cellist with breathtaking technique, Djokic is a wonder to behold in performance, her hands flying across the fingerboard in a whirlwind of passion equally matched by her absolute precision. I filmed a documentary about her in 2002 for Bravo, following her as she toured small towns in northern British Columbia, and I remember seeing people moved to tears at the intensity and emotion she brought to the stage. She has managed to translate her brilliance in a live setting to recordings time and time again (never as easy to do as one might think) on award-winning albums such as Denise Djokic: Barber, Martinu, Britten (2002)  and Benjamin Britten: Three Suites for Cello (2008), but it was on the magnificent 2005 release Folklore that she really stretched her wings and brought her formidable talent to bear with interpretations of works that were inspired by traditional folk music. The album begins with the lilting folk songs of Vaughan-Williams "Six Studies in English Folk Song," and then moves seamlessly into Stravinsky's famed "Suite Italienne," followed by a nuanced and highly textured reading of the rich Romanticism layered throughout Schumann's  "Five Pieces in the Popular Style." Djokic concludes the album with Janáček's otherworldly "Pohadka" and Cassadó's volatile "Suite for Solo Cello."  The album was nominated for a Juno and won the East Coast Music Award for classical recording of the year; it also made Billboard's top 15 classical chart… all well-deserved accolades. The choice of material works perfectly, allowing Djokic (and her pianist David Jalbert, a tremendous talent in his own right) to guide the listener through an exhilarating journey of the senses and the soul. – PAK
Video is unavailable, but you can listen to excerpts here.
15. Joel Plaskett – The Park Avenue Sobriety Test (2015)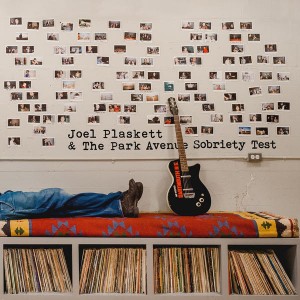 After years of crafting accessible alt-rock albums that garnered him a loyal following across Canada, Joel Plaskett's latest album is also his finest. Whether it is the singalong title track – a sly lamentation of the curves that life can throw at you – or any of the rest of the album's harder-rocking moments, The Park Avenue Sobriety Test situates Plaskett amongst the most heroic and enduring of Nova Scotia's musical personalities, a rare example of a rocker who, while mellowing into middle age, is actually getting better as a result of the journey. Recorded more or less as a live album, which allows Plaskett to channel the immediacy that has characterized his legendary live performances for years, the album is loose, pointed and yet fully formed. Plaskett's always raucous tunes are tempered by more serious, adult-oriented themes, on a work by a musician who – like all of us – is struggling to reconcile growing older with the inner child we all still feel inside. Assembling an eclectic musical cast to help him on the journey (his regular band are joined by Mo Kenny, for example, as well as singer-songwriter Peter Elkas and former Thrush Hermit drummer Ian McGettigan), the album plays like a traditional Maritime kitchen party, which fits the always engaging Plaskett to the proverbial "t". On The Park Avenue Sobriety Test Joel Plaskett finally grows up, but does so without giving up. In the process, he has opened the door to a whole new range of exciting musical possibilities. – RFM
16. Anne Murray – Let's Keep It That Way (1978)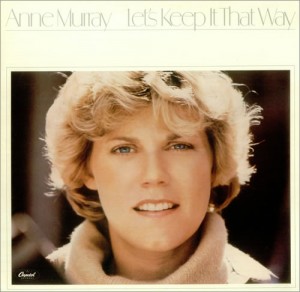 Canada's favourite songbird of the 1970s and 1980s, Anne Murray was better known during her career for her singles than for her album work. Like April Wine, most of her albums were burdened with a lot of forgettable filler that far too often drifted into over-produced soft adult contemporary pop. By the late 1970s her career, which had shown so much promise in the wake of her 1970 smash hit "Snowbird," had stalled, largely because of the mediocre material she had recorded in the years since. On the 1978 multiple platinum disc Let's Keep It That Way, however, Murray finally pulled together a consistently excellent group of songs and crafted a slick production that still left plenty of room for her to put her own indelible stamp on the music. A mixture of shimmering country and contemporary pop, Let's Keep It That Way was chock full of great songs, including one of Murray's best known and most beloved singles, the stunning "You Needed Me," which was her second gold record in the United States (along with "Snowbird" from 1970). Other standouts included her rollicking version of the Everly Brothers classic, "Walk Right Back," which went to #2 on the Canadian country charts and #4 in the United States. While those were the hits, however, there was none of the inconsequential fluff that marred many of her other albums. Her rendition of "Tennessee Waltz" in particular is timeless, and the title track could have been a hit for anyone else. The album went to #1 on both the Canadian country and pop charts (where it went double platinum), and it hit #2 on the US country chart, going Platinum in the process, the first time she had reached that mark south of the border – all signs of just how strong the album was as a whole. Her career blossomed again in the years that followed, and in 2011 Billboard ranked her 10th on its top 50 list of all-time adult contemporary artists, in no small part because on Let's Keep It That Way Murray finally demonstrated that she could craft a full album of substantial and thoughtful material that matched her inarguable charm and talent.  – PAK
17. Pepper Tree – You're My People (1971)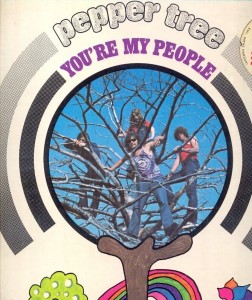 Somewhere lost in the midst of memory and time is the legend of the Pepper Tree, one of the most successful bands ever to come out of Halifax. Formed in 1967, the band played their first gig at the Shore Club in Hubbards. In 1969 they were spotted by a talent scout, and after recording a demo they were snapped up by Capital Records. The group scored four top ten singles in the late '60s and early '70s. Produced by the Guess Who's Jack Richardson, the Tree even managed to open for Grand Funk Railroad at Shea Stadium in front of 50,000 fans. Led by singer / drummer Tim Garagan and keyboardist Bob Quinn, their music skirted the edges of acid rock but never tipped over the precipice into the chasm of self-indulgence that swallowed up so many of their contemporaries. Songs like "Airplane" and the album's title track "You're My People" were once standards on the Halifax local rock circuit, and with good reason, but it is on "Try" that the Tree really soared, offering listeners one of those statement songs about everyone getting along that were hallmarks of the era. This album is well worth tracking down at your favourite used vinyl emporium, and is long overdue for a serious reissue campaign. – RFM
18. April Wine – The Nature of the Beast (1981)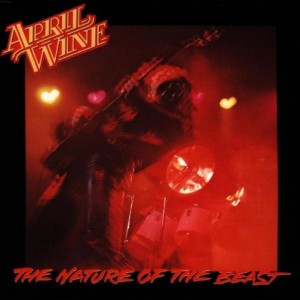 After the breakthrough success of their 1975 classic Stand Back, April Wine fell victim to their old habit of releasing mediocre albums that didn't do justice to their potential. Fans were left to wonder, after two duds in 1976 (The Whole World's Going Crazy and Forever For Now), and a couple of punchless live albums (1977's Live at El Mocambo and 1979's Unreleased Live), whether the "wine" had gone stale. Their 1979 release First Glance was a positive step forward, to the point of almost pretending that the previous four years hadn't really happened, and the band followed that album up with the solid Harder… Faster in 1980, proving that they still had plenty of juice left in them. All of this led up to their true return to form in 1981 with The Nature of the Beast, which could just as easily have been called "Stand Back, Part II" because it more or less followed the same formula of their earlier chart-topper, with power ballads being intermixed with blazing hard rockers. Lead singer and songwriter Myles Goodwyn is in top gear on every song, hitting the emotional mark on what might be their best song ever, the killer ballad "Just Between You and Me" and letting loose with reckless rock star abandon on songs like "Sign of The Gypsy Queen," "Crash and Burn," and "One More Time." The only thing preventing The Nature of the Beast from reaching the giddy heights of Stand Back are a couple of throwaway songs that sneak in ("Future Tense" is the worst offender), but this is still by every measure a worthy successor. – PAK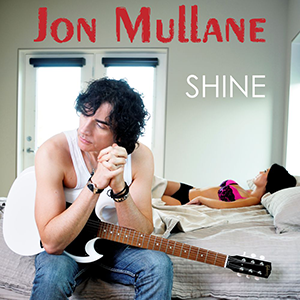 Jon Mullane is sort of the John Mellancamp of the Nova Scotia music scene, by which I mean that his early work under a stage name (Jonathan M for Mullane, Johnny Cougar for Mellancamp), was not terribly good… but he stuck with it, all the while honing his craft as both a songwriter and a performer, just like Mellancamp did. Eventually Mullane reclaimed his name and found his groove as a contemporary pop – rocker. He's never quite gotten the credit he's due in his own hometown of Halifax, where he just doesn't seem "hip" enough for some people in the "in crowd," which is a real shame. But Mullane soldiered on, and he's found plenty of mainstream commercial success elsewhere, charting on radio and racking up awards, including in the United States. Shine is by far Mullane's best album yet; it's loaded with radio-friendly Top 40-style pop singles, but it's on the power ballads where he really… well, shines. "Any Other Way" and "Born Beautiful" are standout tracks that only a true pop craftsman could deliver. It took Mullane a while to get where he needed to be, but "Shine" proves that it was well worth the wait. – PAK
20. Rita MacNeil – Home I'll Be (1990)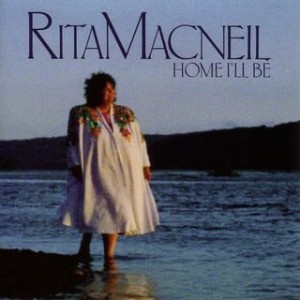 Rita MacNeil's life story is as fascinating as her music. Often chaotic, her youth included the physical and psychological trauma of surgery for a cleft palate, a first love affair that left her with a child and a broken heart, a marriage breakdown, and numerous frustrating attempts to kick-start a musical career. But the talent was always there, as was the heart, and she persevered, eventually finding her way to a stardom that included regular television specials and a musical variety show (Rita & Friends) that attracted 1 million viewers a week over its three season run on CBC, all of which goes to show that good people can indeed finish first. But none of her success would have been possible if she didn't have the musical chops to go with her drive to succeed. Home I'll Be provided a showcase for her amazing voice and her songwriting skill, going double platinum in Canada on the strength of its overall consistency and MacNeil's irresistible good-natured warmth and authenticity. All of the tracks are a delight, but it's the the heart-breaking and anthemic title track that really shines, and secures the album its place as MacNeil's best overall work. One of her most memorable songs, "Home I'll Be"  stands as perhaps the finest and most evocative portrait of the wonder and the beauty of Cape Breton ever painted in any artistic medium. "You're as peaceful as a clear day/ You're as rugged as the seas / I caress you, oh, Cape Breton, in my dreams." It marks a more than fitting legacy for one of the magical isle's true legends. – RFM

Paul Andrew Kimball is a film & television writer, director and producer. Ron Foley Macdonald is a film writer and producer, and was the longtime music and theatre critic for The Halifax Daily News. Both are former musicians who played in a number of bands in the 1980s and 1990s, including Tall Poppies, Julia's Rain, The Fourth Wall, and The Trash Kanz.

Latest posts by Paul Andrew Kimball and Ron Foley Macdonald (see all)