902 Film History: Daniel Petrie – From Glace Bay to Hollywood
One of the most influential and prolific filmmakers to ever come from Nova Scotia was Daniel Petrie. Born in Glace Bay, Cape Breton, in 1920, Petrie rose to the top of the Hollywood heap from the 1950s onward to become a widely admired director of both big and small screen motion pictures.While he's not as publicly celebrated as other Canadian directors such as Arthur Hiller or Norman Jewison who found success and acclaim south of the border, the diminutive Cape Bretoner was the only Canuck film director to return to his homeland to make an autobiographical feature – 1984's Genie Winner for Best Canadian Film, The Bay Boy, a film that looked at Petrie's origins through the eyes of an expatriate.
That film also happened to launch Kiefer Sutherland's career, as the young actor and future Brat Packer stood in as Petrie's surrogate in the depression-era tale of murder, anti-semitism, sexual abuse by the Catholic Clergy and, perhaps most important, the dashed economic dreams of an entire generation.
Fascinatingly, Petrie's films were often full of daring concerning their subject matter. In 1976 he confronted family sexual abuse and multiple personalities with Sybil, winning Sally Field an Emmy for Best Actress in the landmark 4-hour television mini-series that was one of his career high points.
Petrie scored more Emmy Awards over the following two years with his powerful and illuminating seven-hour series Eleanor and Franklin, telling the story of Franklin Delano Roosevelt's rise to power from the point of view of his wife, who suffered through her husband's longtime adultery even while the beloved president saw America through the Depression and most of World War Two.
Petrie was part of the heroic generation of filmmakers who came up through early television, the likes of which included Rod Serling, Ralph Nelson and John Frankenheimer. Two of Petrie's early television projects, A Wind From the South (1955) and Bang the Drum Slowly (1956), which were aired as episodes of the United States Steel Hour series, are included in the landmark Criterion Set 
The Golden Age Of Television. That makes the genial Bluenoser part of a select few Canadians honoured with Criterion releases. David Cronenberg, Alan King and Claude Jutra are the others. It's an exclusive club, for sure.So why is Petrie not better known? It's a fascinating question. Perhaps the key reason is that the elfin Cape Bretoner was not interested in self-publicity. He built a fearsome reputation in Hollywood as a fixer, someone who could be relied on to rescue a project that was already in trouble, like the 1988 film Rocket Gibralter, which was the legendary Burt Lancaster's final starring role. Petrie also was known for bringing films in on time and on budget, perhaps the thing the industry valued the most.
Educated at Saint Francis Xavier University in Antigonish, Petrie cut his teeth in college drama productions while learning media production at the town's radio station CJFX. A chance at an internship with NBC in New York City led to another break, a role on Broadway with Richard Widmark and Judy Holliday in the hit play Kiss Them For Me in 1945. Directing Studs Terkel's early TV show in Chicago in 1950 was next. From there, Petrie's career blossomed.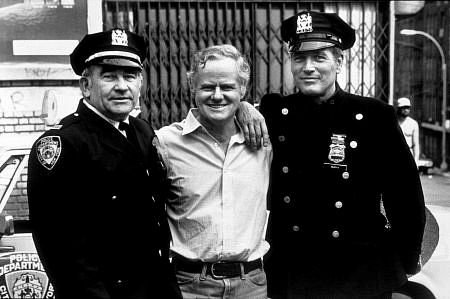 This humble and amazingly productive filmmaker directed pretty much every type of film. He made remakes like Lassie, sequels such as Cocoon: The Return, indie projects like The Gun and the Pulpit, and serial television like McMillan and Wife. Although his films were never big box office successes, he did manage a blockbuster with his 1981 police thriller Fort Apache: The Bronx, which starred Paul Newman and Ed Asner, Fort Apache, and earned $65 million at the box-office.
Petrie worked with many of the biggest stars in film and television history, and developed a reputation as an "actor's director." As noted above, the list included Burt Lancaster and Paul Newman, as well as Laurence Olivier in The Betsy), Ellen Burstyn and Sam Sheppard in Resurrection (in which Burstyn was nominated for an Academy Award for Best Actress), Walter Pidgeon and Ernest Borgnine in The Neptune Factor, Sidney Poitier in A Raisin in the Sun (which was nominated for a Palme d'Ore at the 1961 Cannes Film Festival, and for which Petrie received a special Gary Cooper Award at Cannes), Jack Lemmon and George C. Scott in the 1999 TV remake of Inherit The Wind, Gena Rowlands and Laura Linney in Wild Iris, and Richard Burton in The Bramble Bush. He even got to work with two of the crew members of the original Starship Enterprise – George "Mr. Sulu" Takei played Le Duc Tho in the 1995 TV movie Kissinger and Nixon, and fellow Canadian William "Captain Kirk" Shatner starred in For The People, a 1962 crime series for which Petrie directed an episode.Besides The Bay Boy, Petrie returned to Nova Scotia two other times to shoot films. In 1972 he directed The Neptune Factor with Walter Pidgeon, Ben Gazzara and Ernest Borgnine, on which he employed as crew some of the people who would go on to form the Atlantic Filmmaker's Co-Op the next year, and in 1996 he shot the Hallmark Hall of Fame television movie Calm At Sunset outside of Halifax, using the legendary actor and director Melvin Van Peebles in a major supporting role as a wizened fisherman.
Daniel Petrie died in Hollywood in 2004 after a brief bout with cancer. He was directing up to two films a year until 2002. The ultimate Hollywood insider, he was a prime mover in the American Film Institute, but it's perhaps his family which is his greatest cinematic legacy. Two of his sons have pursued careers in cinema, both more successful in terms of box office "hits" than their father. Donald Petrie followed in his father's footsteps as a director, helming such popular films as Mystic Pizza, Turner & Hooch, and Grumpy Old Men, while Daniel Petrie, Junior become a screenwriter of such films as Beverly Hills Cop and Toy Soldiers (he has also worked as a director himself, as well as a producer). Daniel, Jr, was also the longtime the Western Zone head of the Screenwriter's Guild of America, where he was responsible for negotiating contracts with the major studios and broadcasts on behalf of professional motion picture writers.
Within his home Province little serious consideration has been given to Daniel Petrie's prolific and impressive oeuvre (as a television director he won multiple Emmy and Directors Guild of America Awards), and yet the high regard in which he was held south of the border by his peers indicates that he's due for a considerable reconsideration as Nova Scotia's greatest film director. 

Ron Foley Macdonald is a filmmaker, musician, author, and arts journalist who lives in Halifax, NS. He has written for such publications as the Halifax Daily News, The Globe and Mail, The National Post, and Take One. He taught film history for 15 years at the Nova Scotia College of Art and Design, and has also taught at Dalhousie University and Mount Saint Vincent University. For two decades he was the Senior Programmer at the Atlantic Film Festival. He is currently the curator of the film and video series at the Dalhousie Art Gallery, and the producer of the recent feature films Exit Thread and Roundabout.

Latest posts by Ron Foley Macdonald (see all)