Wormwood's Memories… and lessons for the arts in Halifax in 2016
Wormwood's Dog & Monkey Cinema closed in 1998. That's almost 20 years ago, and Halifax is no closer to finding an adequate 7-day-a-week replacement specialty motion picture house.
It's a disheartening situation, considering Wolfville has a thriving independent cinema scene at the Al Whittle  Theatre, which provides a vigorous level of non-mainstream programming. Despite the Atlantic Film Festival, the Halifax Independent Film Festival, and weekly screenings by the Carbon Arc from October to April, neither the private sector nor the public sector have managed to re-create in Halifax what Gordon Parsons and a smattering of Atlantic Film Co-op people put together in the mid 1970s.
I saw my first Wormwood's offering in 1977. It was the Czech Director Jan Nemec's The Report On the Party and the Guests. Rarified fare, no doubt, but revisiting it on a Criterion Collection edition years later reminds me of how important Wormwood's was back then, and what a vacuum we have now.
Once I started working at the National Film Board in July, 1981, I was quickly drawn into the Wormwood's orbit, first as a relief projectionist and eventually as a programmer, writer and manager. I rarely got paid – the shoestring organization sputtered on monetarily during its entire lifetime – but the rewards were nevertheless great and enduring.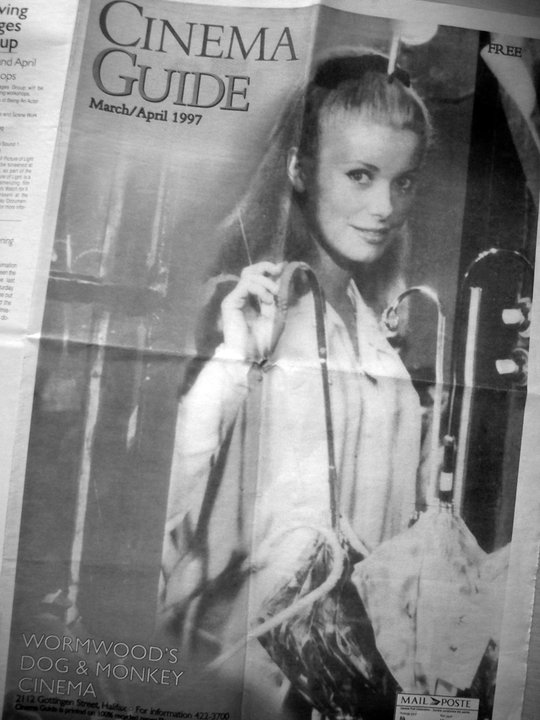 For one, I saw an enormous amount of incredible films. Second, I was at ground zero for not only the city's film culture, but the Atlantic region's. We were literally trying to connect the dots for a Canadian Film culture, a struggle that goes on today in fits and starts.
The programming at Wormwood's was agressively non-mainstream. We showed material that was not going to play in 'regular' cinemas, and as a result we had a devoted, curious audience that demanded challenging work from around the world and from under-serviced and often ignored sectors, such as the emerging LGBT cinema and indie filmmakers from the European and Asian scenes.
We had passive support from officials who could turn surplus federal assets into real, tangible help that didn't necessarily cost any new money. The NFB theatre, for example, was under-utilized and provided a starting point for the cinema.
Years later, the same model was used by Fred Mattocks at CBC Halifax to house arts organizations – The Atlantic Film Festival, The Saint Cecilia Concert Society, AFCOOP, The Centre for Art Tapes, the Linda Joy Society, and a few others – in the extra space at 5600 Sackville Street. A visionary insight turned to real tangible help.
Those passive subsidies contributed greatly to Halifax's arts scene. It's something rarely considered in these days of shrinking budgets and arts cuts. The arts is almost always the first thing to suffer under the indiscriminate axe of an austerity government, such as the one Nova Scotia has now.
Interestingly, there are still some surplus federal assets in Halifax, particularly military ones, but no-one seems to know how to access them. I'm not sure anyone even tries anymore.
Pinpointing what is missing from Wormwood's long absence is difficult. Some organizations have managed to make do, organizing haphazard screenings here and there in the city. We have come close once or twice. The Paradise Sisters group was $30,000 short of opening a new facility on Market Street. Former Dalhousie President Tom Traves wanted a major screening setup in the McCain Building when it was being constructed; the expense of the specialized projection exhaust system put an end to that dream.
Why, in a city with a metropolitan area population of four hundred thousand, we can't have a functioning specialty cinema tells you a great deal about what is and what is not possible in Halifax, and the priorities of our current ruling class.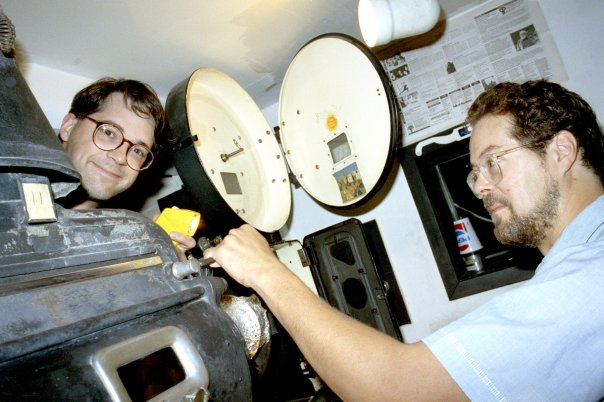 The core group of programmers from Wormwood's – Lia Rinaldo, me, Lee Anne Gillan, Peter Gaskin – would often speak of what was needed to start a new specialty cinema. Usually we'd come down to two major items: a usable building in the urban area, and a capital infusion of about three hundred thousand dollars – small potatoes, you would think, when government is regularly dropping hundreds of millions of dollars into convention centers and ferries.
The site, of course, would be crucial. When Wormwood's moved from Barrington Street to Gottingen Street it lost about twenty percent of its audience because some south and west-enders simply wouldn't come to Gottingen Street back then.  It was a rough lesson that we learned, but for those who would come Wormwood's was instrumental in changing the character of central Halifax in a positive way, the effects of which can be seen today..
The money, on the other hand, is a more difficult issue. Almost nobody, amongst the denizens of our three film schools, will admit that they are studying film so that they can get into exhibition or distribution. The industry itself is full of strange antithetical ideas like block-booking; there is almost no expertise in our film schools about such practices.
Still, as we approach the twentieth anniversary of Wormwood's closure, there might even be some grounds for hope. The slate is now so clean that at least a range of dreams and possibilities could come out of the most unexpected of places.
The enduring lack of a specialty cinema in Halifax remains a puzzle yet to be solved. Maybe if we put our heads together, we can solve it together.

Ron Foley Macdonald is a filmmaker, musician, author, and arts journalist who lives in Halifax, NS. He has written for such publications as the Halifax Daily News, The Globe and Mail, The National Post, and Take One. He taught film history for 15 years at the Nova Scotia College of Art and Design, and has also taught at Dalhousie University and Mount Saint Vincent University. For two decades he was the Senior Programmer at the Atlantic Film Festival. He is currently the curator of the film and video series at the Dalhousie Art Gallery, and the producer of the recent feature films Exit Thread and Roundabout.

Latest posts by Ron Foley Macdonald (see all)