Pioneering Canadian Filmmaker Don Owen Dies at 84
One of English Canada's pioneering filmmakers, Don Owen, died at age 84 on February 21st.
While Owen made his films mostly in Toronto and Montreal in the 1960s, '70s and 80s, he lived in Halifax for almost a decade after he finished his final feature, Turnabout, in 1988, which screened at that year's Atlantic Film Festival.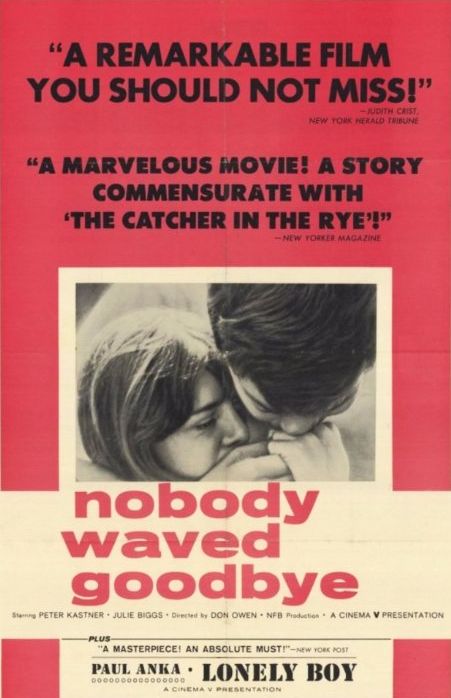 After studying anthropology at the University of Toronto, where he was also a budding young poet, Owen worked as a writer on industrial films and as a stagehand and assistant director at the CBC. He joined the National Film Board in 1960, and made his mark in 1964 with the breakout feature Nobody Waved Goodbye, a film that garnered international acclaim and distribution in the US, a rarity at the time. Judith Crist of the New York Herald Tribune called it "a remarkable film," and the New York Post hailed the film as "a masterpiece."
Nobody Waved Goodbye began as a conventional documentary about a youthful first offence. Owen related to me during a Nova Scotia College of Art and Design Film class that he took advantage of the NFB administrators being on summer vacation to shoot enough material for a full dramatic feature.
The resulting movie generated great reviews and word-of-mouth worldwide and launched Owen on a career of several more features and documentaries, many of which were quite daring and unconventional. Notes On a Film About Donna and Gail from 1966, for example, told its story of two young working class women in a self-conscious style where the narrator interacted directely with the characters. Owen's last feature, Turnabout, was a 'sort of' sequel to 'Donna and Gail.
1984's Unfinished Business was a sequel of sorts to Nobody Waved Goodbye, picking up the story a generation later with lead actor Peter Kastner playing a father to a wayward teenage daughter, presumably the one he tried to abandon as a baby in the 1964 film. Kaster's success in Nobody Waved Goodbye got him cast in in the lead role of Francis Ford Coppola's premiere studio film You're A Big Boy Now in 1966. The Toronto actor and children's entertainer went on to star in the flop US TV series The Ugliest Girl In the World. True to 1960s unconventionality, Kaster played the girl.
In 1967 Owen made The Ernie Game in Montreal with the charismatic Alexis Kanner in the lead in a French New Wave style film about youth culture and a young man who can't make commitments.
Amongst Owen's documentaries were the 1966 skyscraper construction short High Steel and a portrait of the then new Buffalo Art Gallery from the late '60s.
He co-directed the 1965 hour-long bio-doc Ladies And Gentlemen, Mr. Leonard Cohen with with his NFB associate Donald Brittain. Almost all of these National Film Board titles are available to view at no charge at the NFB website.
Don Owen was a colourful character, generous with his opinions and time. His cinematic legacy, celebrated during his lifetime, will undoubtedly endure.

Ron Foley Macdonald is a filmmaker, musician, author, and arts journalist who lives in Halifax, NS. He has written for such publications as the Halifax Daily News, The Globe and Mail, The National Post, and Take One. He taught film history for 15 years at the Nova Scotia College of Art and Design, and has also taught at Dalhousie University and Mount Saint Vincent University. For two decades he was the Senior Programmer at the Atlantic Film Festival. He is currently the curator of the film and video series at the Dalhousie Art Gallery, and the producer of the recent feature films Exit Thread and Roundabout.

Latest posts by Ron Foley Macdonald (see all)