Did D. W. Griffith's "The Birth of a Nation" Play in Halifax?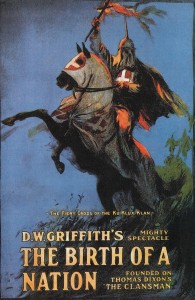 In the Saturday, October 1st edition of the Halifax Examiner writer and activist El Jones quotes an academic paper by Greg Marquis on whether D. W. Griffith's epic motion picture The Birth Of A Nation ever played in Nova Scotia.
Marquis asserts that through researching Nova Scotian newspapers of the time (1915 and 1916) he discovered that The Birth Of A Nation didn't play in the province in those years. An interesting assertion indeed. Having taught a film history course at the Nova Scotia College of Art and Design in association with the National Film Board of Canada for a decade and a half, I had access to information that disproves Marquis' claim.
According to my sources, which mostly are gleaned from oral history, Griffith's notoriously racist film played at the Neptune Theatre site, then called the Strand Theatre. Admission was an extraordinary two dollars, when regular admission to film shows in Halifax was regularly only a nickle. Special trains were run up from Yarmouth for showings of the film in Halifax.
All of this controversy comes exactly on the North American release of the 2016 film Birth Of A Nation. Co-written, directed and starring Nate Parker, an African-American who has had his own share of controversy over a past rape allegation, this new film chronicles the slave rebellion of Nat Turner. It is one of the most hotly anticipated films of the season, having made a splashy debut at the Sundance Festival last January, gaining a $17 million distribution deal and a great deal of publicity.
In an interview with CBS's 60 Minutes, director Nate Parker forcefully refuted the rape allegations (he was found not guilty in court), spending much of the interview talking up the film and his attempt to "reclaim" the Birth Of A Nation title from Griffith's tainted and difficult legacy.
Indeed, African Americans and African Canadians actively objected to the racist content of Griffith's film. In 1918, the novelist Oscar Micheaux turned his book The Homesteader into a feature film as a kind of response, initiating a little-known but fascinating 30-year career making black content movies specifically for black audiences. His final film in 1948, after 39 films, was entitled The Betrayal.
This stream of filmmaking was entirely self-financed, relying on its own exhibition circuit and galaxy of stars. When it finally petered out in the late 1940s there would be a gap in black feature filmmaking that would last until Melvin Van Peebles directed The Story Of A Three-Day Pass in 1967 in France. Even then, the French cultural authorities who financed the film mistakenly thought Van Peebles was of Dutch heritage due to the configuration of his last name. 
Hollywood would hire three African American directors in the late 1960s (Van Peebles, Gordon Parks and Ossie Davis) as the 'Blaxploitation' movement blossomed, but that's another story for another day.
As to whether D. W. Griffith's The Birth Of A Nation ever played in Nova Scotia during the period of its original theatrical run, the answer is yes.

Ron Foley Macdonald is a filmmaker, musician, author, and arts journalist who lives in Halifax, NS. He has written for such publications as the Halifax Daily News, The Globe and Mail, The National Post, and Take One. He taught film history for 15 years at the Nova Scotia College of Art and Design, and has also taught at Dalhousie University and Mount Saint Vincent University. For two decades he was the Senior Programmer at the Atlantic Film Festival. He is currently the curator of the film and video series at the Dalhousie Art Gallery, and the producer of the recent feature films Exit Thread and Roundabout.

Latest posts by Ron Foley Macdonald (see all)